Gasworld – Q&A: Enapter's green hydrogen tech at Hannover Messe 2022
Giving more insight into the company's efforts to scale up green hydrogen adoption, the company's Chief Strategy Officer, Thomas Chrometzka, spoke to gasworld about its cutting edge electrolyser technology.
June 9, 2022

As one of the world's largest trade fairs, the Hannover Messe brings together an array of leading industry experts to create a global platform for innovations. With a focus on the ongoing energy transition, electrolyser manufacturer Enapter is showcasing a range of its patented technoloy at the three day exhibition. Giving more insight into the company's efforts to scale up green hydrogen adoption, the company's Chief Strategy Officer, Thomas Chrometzka, spoke to gasworld about its cutting edge electrolyser technology.
What role does Enapter's technology play in the industrial gas sector?
Thomas Chrometzka (TC): With our modular and scalable hydrogen generators, we're helping a broad range of industries to begin switching to green gases. The strategy with our electrolysers is to make it more economically attractive to implement green hydrogen projects of almost any scale. From climate and environmental perspectives, it's more attractive to use green hydrogen than fossil fuels, so we're making its price another benefit.
What advantages does the company's electrolyser technology have over traditional types?
TC: Enapter's patented AEM technology combines the benefits of alkaline electrolysers' low-cost materials (steel instead of titanium) with the flexibility and compact size of PEM electrolysers. In addition, we are using a product platform approach to scale product delivery quickly – our electrolysers are designed as products that could ultimately become commodities. Our mass production facility is under construction, and when it's done, it we expect it to produce standardised electrolysers with huge scales of economy. Our single core electrolyser, the EL 4.0, is the fourth generation AEM Electrolyser Enapter has developed since 2017 – and the new version is smaller, lighter and ISO 22734 certifiable. However, most of our industry clients are looking at our multi core offering which will provide large scale hydrogen production for all kinds of industrial projects.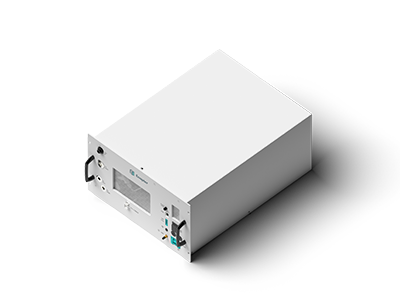 Could green hydrogen and associated clean non-fossil fuel energy help mitigate rising energy prices across the EU? If so, how?
TC: We have set out to make green hydrogen more financially attractive than fossil fuels as quickly as possible. Every additional renewable or green molecule helps in reducing costs and transitioning to a world not relying on fossil fuels. This is because energy costs are locked in from the start with renewable hydrogen – this helps to offset rising energy prices. The faster we can move, the bigger the impact we can have.
Is there potential for the green gas to help countries reduce reliance on Russian energy?
TC: Our electrolysers enable on-site green hydrogen production no matter where you are. It is a key feature of our electrolysers that they reduce dependence on molecules and energy from external sources, regardless of whether they are local or international.
What are the main barriers and challenges present for the scaling up of green hydrogen adoption?
TC: The biggest obstacle is probably the time factor. Establishing a new industry takes time. The current supply chain challenges aren't helpful to speed things up either. Further hurdles are administrative barriers, red tape that needs to be reduced for hydrogen installations in almost all regions of the world.
What are the current and future trends that you're excited about?
TC: We're always fascinated by what is ultimately realised with our electrolysers. Our AEM electrolysers will have applications that go far beyond classic applications in industry, mobility or the energy industry. We are particularly excited to see how the clean food sector develops, for example – it's actually possible to make protein-based on hydrogen from renewable energies. Emerging solutions like these have the potential to help counteract the growing threat of the climate crisis beyond what we thought could be possible.
How can Hannover Messe help advance the conversation around renewable energy and green hydrogen?
TC: The Hannover Messe, with its important focus on transformation and hydrogen, is an ideal platform for us to engage in dialogue with industry. As we are about to launch the AEM Multicore, it is even more important for us to get into conversations with potential customers who need megawatt-scale green hydrogen.
Written by Anthony Wright
Read article