August 2022: Parity with grey hydrogen today and a €1 Million grant
We've all got plenty to think about as we head into the summer holidays. Especially as energy, climate action, regenerative industry, and decentralized green hydrogen continue to gain attention. But as we take time off to re-energize, it's important to think not just about today's problems but what solutions we can bring to the table. This newsletter focuses on a few of them that we've been able to share recent
August 9, 2022

Reaching Fossil Fuel Parities
As a recent interview in Recharge News pointed out, Enapter is chasing a big cost reduction figure – 83% by 2025. Looking behind the headline, we're happy to go into more detail about our cost of green hydrogen, how we calculate it, when we reach fossil fuel parity – and how there's no such thing as one hydrogen cost parity point.
Fact 01: When it first ships in 2023, our megawatt-scale AEM Multicore should already be giving industrial grey and blue hydrogen a run for their money: producing green hydrogen at a cost of 1.5-4.2 €/kg.
Fact 02: Our EL 4.0 Electrolysers can already be competitive with commercial and retail grey hydrogen today. We forecast that we can reduce their Levelised Cost of Hydrogen (LCOH) by 60% by 2025 due to mass production.
Read our new blog post for all the details!
Get More Multicore
We had a huge reaction to our coverage of the AEM Multicore in last month's newsletter.
And while our team is putting all efforts into finalizing our first 1-megawatt solution, we quickly summarize the key advantages and benefits of our upcoming product for you:
The AEM Multicore will have a production rate of 210 Nm³/h (400+ kg/d) and offers significant cost savings, increased hydrogen production and purity, and enhanced reliability and safety. Everything to make your operations smoother, safer, cleaner, and cheaper. Here's what you can expect:
Top of the category for rapid reaction to intermittent renewable energy loads
Quick & easy to integrate as it comes with all H2 production equipment installed
Designed with off-grid & decentralized uses in mind – perfect match for outdoor installations
Low requirements for water input purity
Standardised build, easy to maintain and service
Convinced? Then get a quote today so you don't miss out on the first generation of AEM Multicore!
Industrial Mass Production without Negative Impacts
The word's finally out: In mid-April we kicked off our "Life Cycle Impact Zero" project.
In partnership with leading research organisations Fraunhofer Institute for Environmental, Safety and Energy Technology UMSICHT, The Wuppertal Institute, and The Institute of Sustainable Nutrition (iSuN) of FH Münster, we're working towards achieving zero negative environmental impacts from our AEM Electrolyser products.
This 18-month project will lead to an action plan moving Enapter towards avoiding all negative environmental impacts. It's much more than greenhouse gas emissions – although we're also addressing this with measures like only using renewable energy produced in Saerbeck – we're looking at all possible impacts, from natural resource usage to any potential pollution risks.
Get the full story here.
Our heart is R&D
Our AEM Electrolyser technology is continuing to get recognition from all quarters – now with a €1 Million grant from the Italian Ministry of Ecological Transition (MiTE).
We will use the grant for optimization and industrialization of the dry cathodes for our AEM Electrolysers. The research & development will take place at our site in Pisa, Italy. The knowledge we gain from this project will be used to further optimize the AEM Electrolyser mass production process which is currently being set up in Saerbeck, Germany.
Read more about the great news here.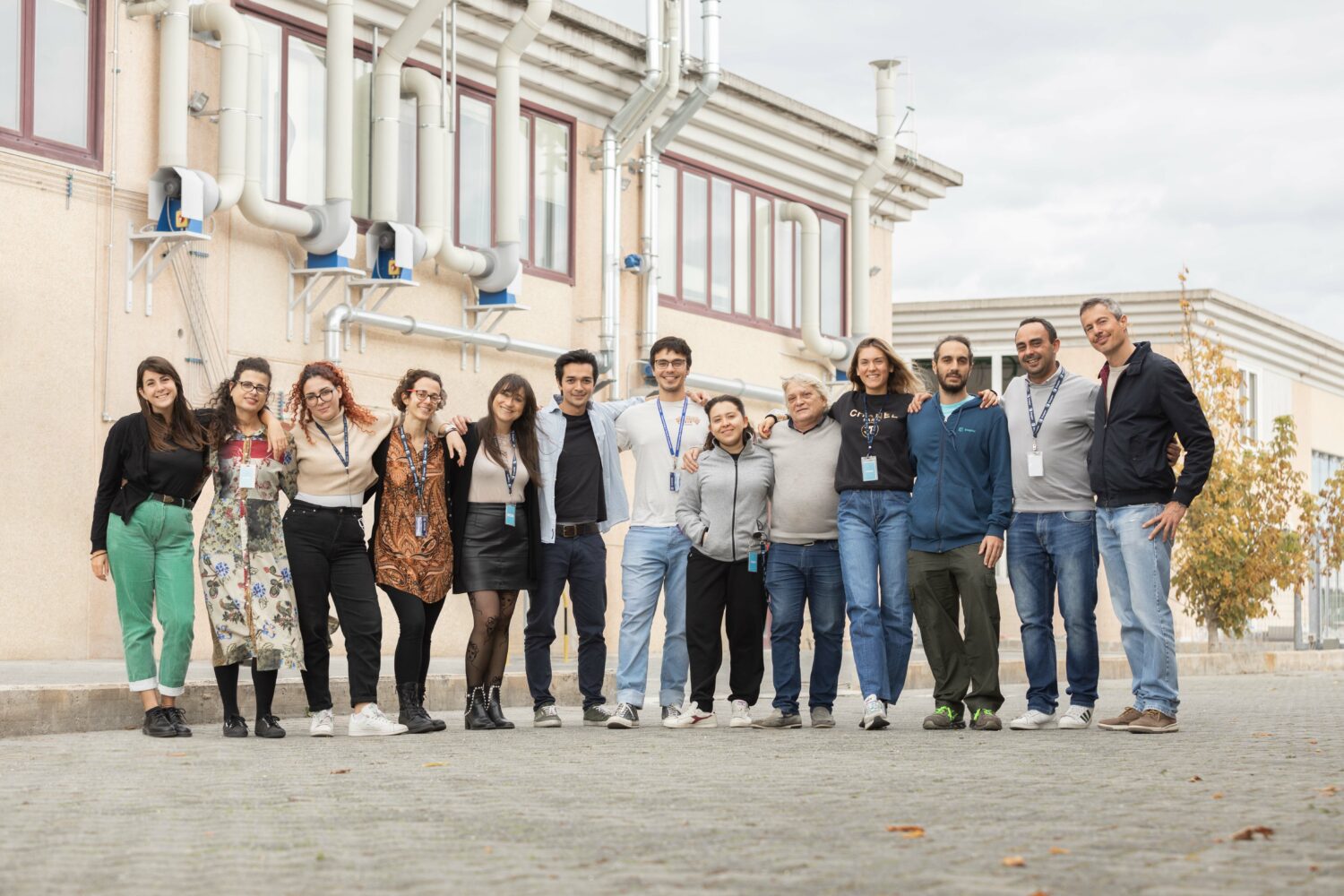 Getting to Know the Neighbours
As our brand new Enapter Campus takes shape, we're excited to roll out the green carpet and welcome visitors – starting with new neighbors in Saerbeck. In the last weeks, we've held an info session for farmers who live close to the Campus, as well as given officials from Steinfurt & Saerbeck an educational stop on their Summer Bicycle Tour.
We were also excited to host the German broadcaster WDR, who filmed the construction progress of our Enapter Campus and got a snapshot into the development of our AEM Multicore.
Watch the WDR piece here (In German)
That's all from us for now, and please share this newsletter with anyone you think would appreciate it!
All our best,
The Enapter Team