November 2022: Enapter is founding member of European Scale-Up Coalition and Nachhaltigkeitspreis finalist
Our news this month shows how our team and partners are working tirelessly to continue bringing AEM electrolysers to the world: from events to climate coalitions. Enjoy the read!  
November 10, 2022

Dear friend of Enapter,

It's been a busy month for our business development team, with events across the globe giving us the chance to connect with partners and new customers alike. These connections are growing in importance as the European energy crisis and climate change are making hydrogen's role in achieving decarbonisation and energy self-sufficiency even clearer.

Our news this month shows how our team and partners are working tirelessly to continue bringing AEM electrolysers to the world: from events to climate coalitions. Enjoy the read!
Global event wrap-up: from Japan, USA to Italy
Our team visited and exhibited at events all across the globe in October, with many learnings from our time spent engaging with all of you out there. Here's a quick overview:
At Washington Solar we saw a strong attendance of government and community-related contractors. It just goes to show what putting policies supporting hydrogen in place can mean. We loved seeing this in the USA!
When we attended REIF Japan in Koriyama City, Fukushima Prefecture, we were able to connect with many Japanese companies. Within the Fukushima Invitation programme we also had the opportunity to exchange insights and experiences with energy agencies and companies from Germany, Denmark, Spain and Japan, discussing the progress of hydrogen and wind power development.
Finally, at the HESE Fair in Bologna, we experienced a strong interest in the use of our AEM electrolysers in hard-to-abate sectors such as steel, ceramics and decarbonising industry.
In case you missed us, you can always
Moving into Enapter Campus R&D Building
We've received the keys to our R&D facility at the Enapter Campus and our Saerbeck team has already moved in! Our partners Goldbeck are currently finishing the construction of the production hall where even more AEM Electrolysers will be built from 2023 but in the meantime, we're happy to be making ourselves at home.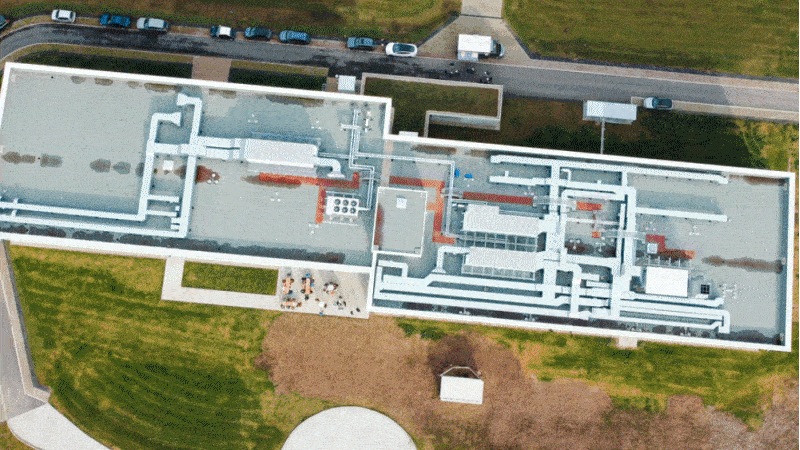 Vaitea Cowan on the potential of green hydrogen
Vaitea appeared on Bloomberg Markets last month to discuss the challenges and future of green hydrogen, particularly in the North American market. One of the key insights: We need to start conversations with key industrial players early in order to make the transition to green hydrogen smoother and attractive in cost.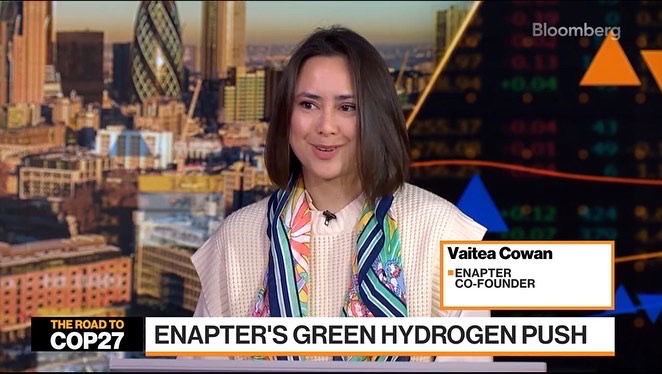 We're German Sustainability Award finalists!
Off the back of last year's inaugural Earthshot Prize win, Enapter has been selected as a finalist for Germany's premier sustainability award: "Deutscher Nachhaltigkeitspreis". We're excited to be in the running for the field of transformation "Climate" and looking forward to seeing what happens at the awards ceremony on December 2!
European Cleantech Scale-Up Coalition
The European Cleantech Scale-Up Coalition has now launched and Enapter is a founding member, working alongside other companies to scale up and industrialise technology with the goal of helping Europe to become climate-neutral, energy-autonomous and industrially competitive. The coalition is supported by Bill Gates and the European Commissioner for Energy, Kadri Simson. We're thrilled to be joining other players from the steel, automotive, chemical and cement industries to work toward a new era of climate and industrial leadership in Europe.
Check out our coalition announcement to find out more!
Enapter HMI app now available on Google Marketplace
Our software team has been hard at work and the new Enapter HMI app is now available on Google Marketplace.

The Enapter HMI (Human Machine Interface) is an Android application for Tablets that enables convenient monitoring and control of Enapter's AEM Electrolysers connected to a Local Area Network. It supports an unlimited number of electrolysers and doesn't require internet connection or a Cloud account for operation.
Meet us at Enlit Europe & Decarbonize Thailand Symposium
The events just don't end: Enapter will be exhibiting at Enlit Europe 2022, Messe Frankfurt, Germany from 29 November to December 1. You can secure a visitor's ticket here and make sure to book your meetings in advance.
We'll also be at the Decarbonize Thailand Symposium on November 24, with our colleague Tanai Potisat taking to the stage as a highlight speaker and Enapter hosting a booth throughout the day.
Book meeting for either event here!
Thanks for reading all the way to the end – we'll be back soon with more news!
All our best,
The Enapter Team