Handelsblatt – Hydrogen Start-Up Enapter Wants to Start Mass Production
Many large companies are currently trying their hand at the hydrogen market. However, it is a small start-up that is taking the step towards mass production. This article is in German.
October 14, 2020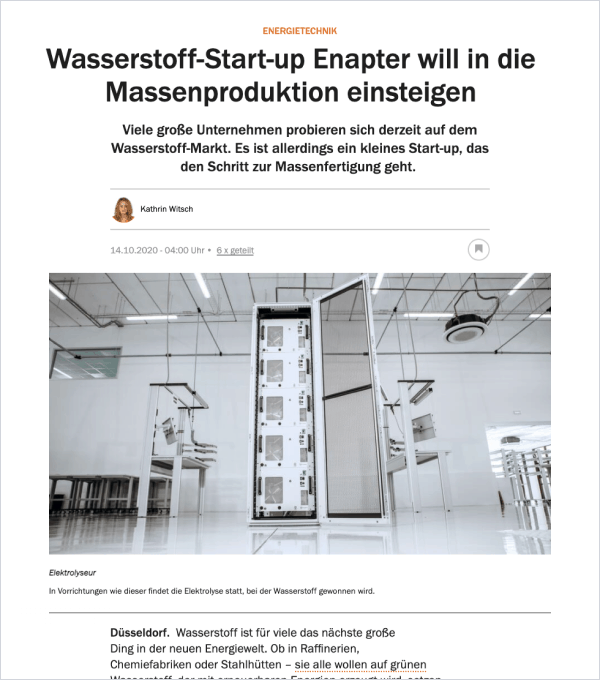 Düsseldorf – Wasserstoff ist für viele das nächste große Ding in der neuen Energiewelt. Ob in Raffinerien, Chemiefabriken oder Stahlhütten – sie alle wollen auf grünen Wasserstoff, der mit erneuerbaren Energien erzeugt wird, setzen. Zahlreiche große Unternehmen wollen die Anlagen für den Treibstoff der Zukunft produzieren. Konzerne wie Siemens Energy, Linde, Air Liquide oder Nel Asa planen, mit ihren sogenannten Elektrolyseuren die Industrie CO2-frei zu machen.
Das kleine Wasserstoff Start-up Enapter ist der erfahrenen Konkurrenz allerdings einen Schritt voraus. Im beschaulichen Saerbeck, einer 7000-Einwohner-Gemeinde im Münsterland, will Gründer Sebastian-Justus Schmidt die erste Massenproduktion für seine Elektrolyseure aufbauen.
….
Full article here.
Written by Kathrin Witsch