UK AEM Multicore sale; EL 4.0 applications for land, sea, & mobile testing
What do trade barriers, Coldplay and scaling hydrogen have in common? Read on and take a guess!
July 4, 2023

At Enapter, we're always advancing on many fronts at once. So fittingly, this month's newsletter reveals the latest AEM electrolyser deal at the megawatt level AND introduces handful of the many green hydrogen uses unlocked by our compact electrolysers. On another note, what do trade barriers, Coldplay and scaling hydrogen have in common? Read on and take a guess…

Use Cases galore, from land to the shore
The number and diversity of green hydrogen applications being unlocked with our compact AEM electrolysers (now in the EL 4.0 generation) is astounding. Get to know three more of them below:
The H2-Grid
Hensoldt Nexeya France's H2-Grid is a containerised, standalone and turnkey solution for H2 production, storage and electricity production. It enables remote sites to achieve energy self-sufficiency, provide green emergency backup power, or can form part of a district- or building-level energy loop to offer services like smart energy management, peak shaving and hydrogen refuelling for light mobility. 
Capable of handling tropical or cold climates, saline environments, or windy areas, the system is suitable for use in challenging settings such as telco towers and weather stations, small off-grid villages and islands, as well as in rural hospitals, national parks and mining. Read more about the system here. 
Mobile green H2 plant
Chile's first mobile green hydrogen plant exists thanks to a research project led by the Scientific and Technological Centre of the Regional Government of Antofagasta (CICITEM) and was built by the companies Vespek and TRA Busso Group. It aims to quantify the potential for green H2 generation from PV in the Antofagasta Region and also identify other areas of high H2 generation efficiency in Chile. 
 
With eight 2.5 kW AEM Electrolysers and a mobile photovoltaic plant of 33 kW peak deployment, it has already completed its initial research, having first generated green hydrogen in the town of Mejillones. Read more about the mobile research plant here.  
Nautical green hydrogen
Historic Italian boat builder Baglietto's Bzero project is based on the use of green hydrogen to achieve zero emission goals. This prototype is now being developed as an on-shore system, and an identical, though smaller-scale system will later be installed on Baglietto yachts over 50 m in length. The BZero system uses filtered and deionised sea water to make high-purity green H2 with 10 EL 4.0 electrolysers. 
 
This H2 is stored in solid state and a PEM-type fuel cell module uses it to produce silent and zero-pollutant electricity for the yacht. The prototype will be used to develop operation procedures, optimise technical solutions and obtain the certifications required to use the system. Read more about it here.  
If you are planning to develop your own green hydrogen project in electricity storage, refuelling, industrial applications and beyond, order now and get started within weeks with the EL 4.0 electrolyser.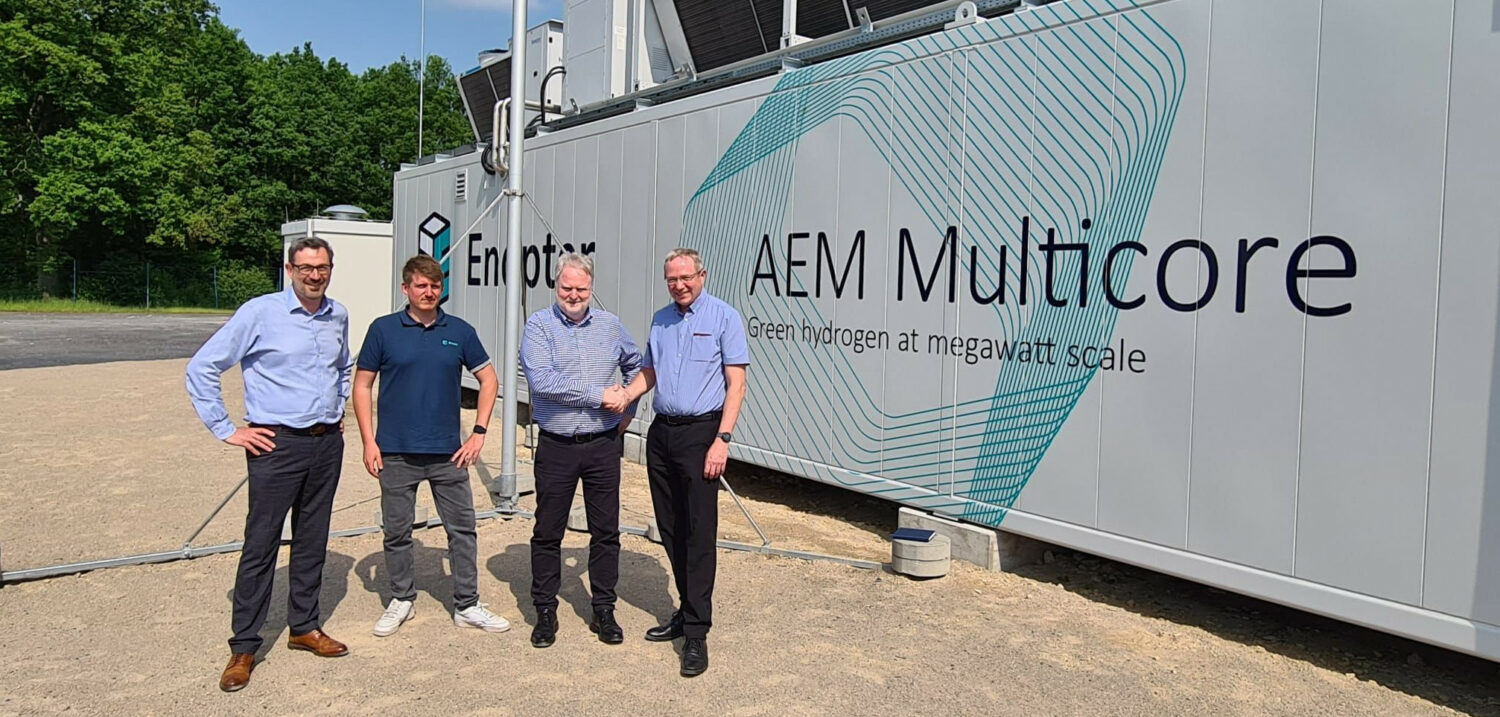 1MW electrolyser sale to UK firm
We're excited to announce the sale of another 1 MW AEM Multicore™! This electrolyser will go the British hydrogen fuel cell developer and manufacturer Intelligent Energy Limited. Its renewable hydrogen will be used in testing and developing their high-power fuel cells for transport, stationary power and aviation applications.
With this sale, we're delighted that Intelligent Energy will be one of the pioneering users of our AEM Multicore as both companies scale up alongside the green hydrogen industry.
Read more in our press releases in English and German and get your budgetary quote for an AEM Multicore today!

Insights from the big stage
Our co-founders have been making waves at recent industry events, where they've been sharing and soaking up insights and advocating for the global advancement of hydrogen technology.

Here's a quick rundown for those who couldn't follow in person:
Bloomberg TV – scaling hydrogen
Vaitea joined the Bloomberg TV Surveillance morning segment, hosted by anchorwoman Francine Lacqua and Marco Alverá, CEO of TES-H2. The discussion revolved around scaling hydrogen, and for us, this translates to remarkable achievements: In Q4 22, we shipped an impressive 3 MW equiv. of electrolysers from Pisa, the main buildings of our Enapter Campus are built and we recently inaugurated our first demo 1 MW system. These points mark our commitment to effectively scaling AEM electrolysers.
Panel Bloomberg New Energy Finance – trade barriers
With a name like "Can Europe Build an Electrolyzer Industry Without Resorting to Trade Barriers?", this panel was always going to be interesting. Vaitea joined H2 analyst Martin from BNEF and electrolyser manufacturers Jon Cockerill and HydrogenPro. The upshot: No-one was in favor of putting up trade barriers in Europe. Here's Vaitea's reason why:

Financial Times Hydrogen Summit
Vaitea shared a panel with electrolyser manufacturers Plug Power and ITM, and power-to-x player Topsoe. Moderated by Rachel Millard, the session explored the topic of electrolyser production keeping pace with the industry's ambitions. She engaged in a substantive conversation, emphasizing the importance of focusing on today's operational systems and not becoming lost in a flurry of "Giga" announcements.  
We agreed: Our dedication lies in building scalable products that are reliable, easily serviceable, and cost-effective. With more deployed units than our competitors, Enapter not only learns more but also enhances our offerings, instilling confidence in the supply chain and propelling progress.
"Summer Davos" – World Economic Forum
Sebastian just got back from Tianjin, China, where he attended the World Economic Forum. There were endless topics at the 23rd "Summer Davos," but he found the individual discussions and lecture excerpts to be the most interesting, since they gave a complete picture of the event. In the energy sector, the WEF had many things to present, and one of them was their white paper called "Green Hydrogen in China: A Roadmap for Progress" 
Our colleagues from Enapter will take a closer look at this paper and we'll share more about it in the coming days on LinkedIn. Stay tuned!  You can always check our event page to see all of our upcoming events!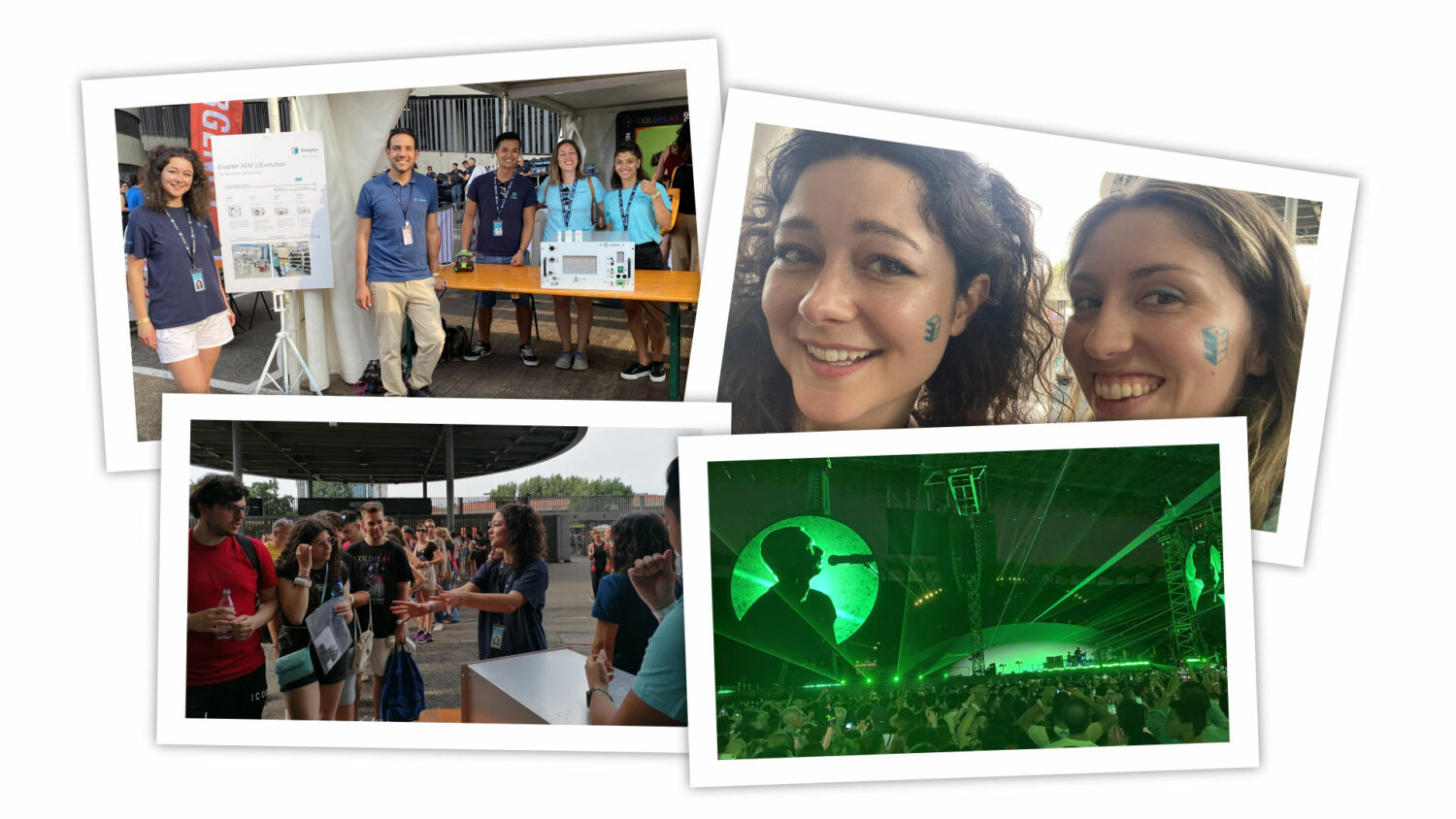 Enapter features at Coldplay's Milan concert
While we didn't quite take to the big stage, Enapter as one of the Earthshot Prize winners was invited to hold a small exhibition about sustainability at one of Coldplay's Milan shows. As a pioneer in designing its tours according to sustainable criteria, Coldplay is making its "Music Of The Spheres Tour" as low-carbon and sustainable as possible.

Some of our Italy team members represented Enapter, showcased our electrolysers and shared the applications for green hydrogen with Coldplay's audience. They loved meeting the concertgoers and we'll keep you updated on whether Coldplay is interested in "yellow" hydrogen.
If you're also interested in pushing the energy transition forward and making sure potential customers know everything they need to about Enapter and our electrolysers, look at our job openings here. 

In particular, check out this month's highlighted roles:
Thanks for reading, and feel free to share this with anyone you think would appreciate it.