The end of year is coming fast – but our electrolysers can arrive faster
Read more to find out how – and get the latest on our use cases, upcoming events and growing partner network.
November 7, 2023

As the number of days left on the 2023 calendar rapidly decreases, you'd be forgiven for thinking that the time for deploying new green hydrogen projects this year has come to an end. But even as the days count down, there's still time to deploy electrolysis for energy storage, replacing natural gas, testing, research and more!
Read on to find out how – and get the latest on our use cases, upcoming events and growing partner network.
EL 4 – fast lead times & commissioning
Our single-core electrolyser, the EL 4 is well known to be super simple to integrate, operate and maintain, enabling the swift start of your green hydrogen journey. But just how fast can it all happen? Let's take the example of the Dutch Company Roto-Art and our Netherlands partner Adsensys:
This year they rapidly rolled out a green hydrogen pilot for the ovens Roto-Art uses to make its 100% recyclable plastic products using rotational casting. These ovens normally run on natural gas but the cabinet integrated by Adsensys contains 7 of Enapter's AEM Electrolysers EL 4 – and already allows Roto-Art to blend more than 30% green hydrogen into the natural gas network to supply one oven.
The goal is to eventually go up to 100% H2 and another highlight is this: Adsensys can get such a plant up and running in six to eight weeks.
And it's not just Adsensys enabling rapid deployment: Our delivery lead times for the EL 4 start from just two weeks, and these devices are plug-&-play systems with all the documentation and support you need.
Get started with green hydrogen in 2023 by requesting your EL 4 quote below.
Event insights from Europe and the US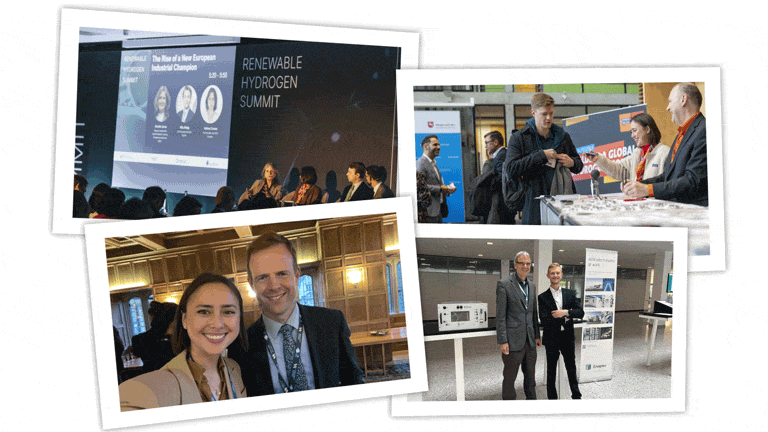 The Enapter team has been talking all things green hydrogen at events around the world in October, from Bremen to Fukushima, the US and back again. Here are a few insights:
Renewable Hydrogen Summit in Brussels: We were invited to share our perspectives as a rising champion in electrolysis and our take was this: Europe has a unique window of opportunity to be a significant player in a strategic industry as it has a technological, experience and policy framework head start. In this global race, Enapter is the technology and commercial pioneer for AEM electrolysers worldwide. With the green H2 market growing and global, the EU needs to gain enough traction if it wants to stay ahead – which means creating an attractive market for green hydrogen. We believe it is in reach if the EU takes the actions it speaks of, today.
Hannover Messe 3 min to talk, Berlin: Enapter has already booked its booth for the Hannover Messe 2024 so pencil the dates 22-26 April into your diary but don't wait until then to get in touch or meet us! At this event, we were invited to pitch our latest products and applications developed by partners and customers.
Oxford's World Forum on Enterprise & the Environment: Invited as a "Climate titan in green hydrogen", we attended an Oxford debate on climate change and equality. Our co-founder Vaitea also had the chance to meet and talk with the Chilean Minister for the Environment Maisa Rojas Corradi.
System Integration Days, Bad Pyrmont: Over this two-day event, attendees tackled topics ranging from electrolyser integration to hydrogen applications and certification, with integrators taking away plenty of information to help them to overcome challenges. Our colleague Holger made a presentation on Enapter and our AEM technology, receiving good feedback on our market position and scalable products for the different needs of the integration partners.
Washington State Solar Summit: The summit we attended was close to maximum capacity and full of great discussions. The interest in hydrogen solutions is rising with solar installers, utilities and the WA government. While the focus of this summit was still on solar, next year's summit will have even more sessions about energy storage and hydrogen solutions.
Hydrogen Roundtable, Vienna: Vaitea Cowan met Martin Kocher, Austrian Minister of Economy and the hydrogen value chain at this Austrian Federal Economic Chamber event and was impressed by the wide representation of demand for green hydrogen. There was also a sense of responsibility and leadership to drive the industry forward and away from fossil fuels – e.g. in food retail with Martina Dutzler from MPREIS Warenvertriebs GmbH, H2 storage with Georg Dorfleutner from RAG Energy Storage GmbH and H2 mobility with Josef Macherhammer from AVL. Austria, like the rest of Europe has a unique window of opportunity to seize if it wants to play a role in a strategic global industry.
Upcoming events in November
Here's a quick rundown of Enapter's events for November – we're looking forward to seeing you there!
07- 08 Nov.: Emerson Hydrogen Days, Hannover, Germany
17-18 Nov.: DDIM.kongress, Düsseldorf, Germany
20-24 Nov.: European Hydrogen Week 2023, Brussels, Belgium
27-28 Nov.: Monaco Hydrogen Forum, Monaco
Visit our events page to find all the upcoming chances to meet us in person!
Mobile H2 Nanogrids for Ukraine
Last month, we came across some good news from our US partner, Sesame Solar, who have committed to donating four mobile Nanogrids including AEM Electrolyser technology to Ukraine.
Powered by both solar power, green hydrogen and battery storage, the mobile systems can start generating off-grid, clean mobile power in less than 15 minutes. To read the full story, visit the post on our LinkedIn page.
New partner H2solo in Sweden
We're pleased to announce the addition of Sweden's H2solo to our partner network. They develop and produce a turnkey solution for the production and storage of energy, enabling self-sufficiency for the smart and independent customer. H2solo believes hydrogen will play a crucial part in reaching tomorrow's zero-emission society, and their system is built on a modular design with well-known and proven suppliers.
On top of this, Enapter is proud to announce that we now have 56 Certified Partners around the world!
To become a partner or find the right integration professionals for your project, visit our partner page.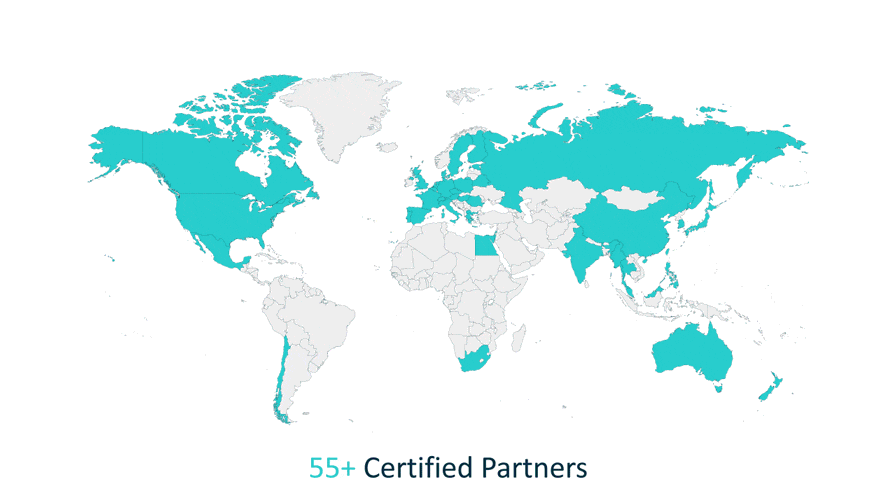 Thanks for reading, and feel free to share this with anyone you think would appreciate it.