Meet our new certified partners for US, Japan and Italy and AEM use cases across three continents
New partners, global solutions and upcoming events.
September 7, 2023

We're launching into this new season with an update from our worldwide partner network – introducing three new certified integration partners who will contribute to the energy transition in Japan, Italy and USA, as well as an array of applications across various green hydrogen sectors. This month's snapshot of global solutions starts in Japan: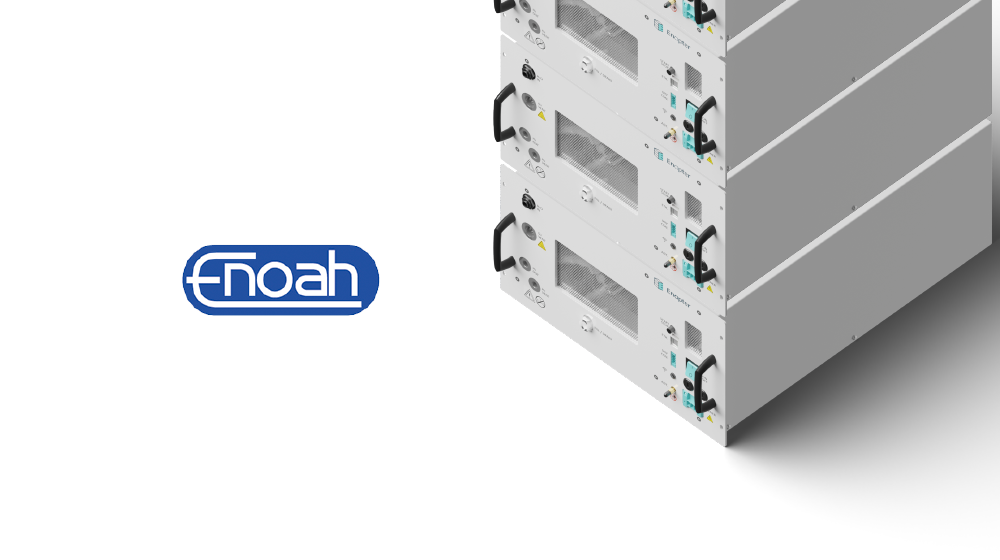 101 electrolysers ordered for Japan
We're happy to announce that our Japanese system integrator, Enoah Inc., has ordered an additional 101 AEM Electrolysers EL 4.0. Our products will be used by blue chip companies in Japan who will produce green hydrogen for power-to-power and refuelling applications. Enapter's and Enoah's relationship dates back to 2021 and this latest order increases the sales volume by a factor of five.
Furthermore, Enoah will now act as an official Enapter integration and distribution partner, working on green hydrogen projects that utilise our electrolysers. Find all the details here in our German and English press releases.
New certified partners in the USA & Italy
On top of our new certified partner, in Japan, we also welcome BWR Innovations, who will represent Enapter in the USA, while CTS H2 has become our latest certified system integrator in Italy.

BWR Innovations, LLC is based in Fargo, North Dakota and creates innovative temperature monitoring, telemetry and hydrogen/fuel-cell based products. These include the Oncore Energy hydrogen fuel cell product line and the iNsite ioT product line of wireless temperature monitoring products.
CTS H2 is a system integration company based in North Italy. Its founders have more than 16 years of experience and know-how related to H2-based systems. Their core expertise is hydrogen production via water electrolysis and H2-based Energy Storage Systems (ESS) for house and small enterprises. To find more info on these or our other global integration partners, visit our partner page!
Do you have what it takes to be a Certified Partner?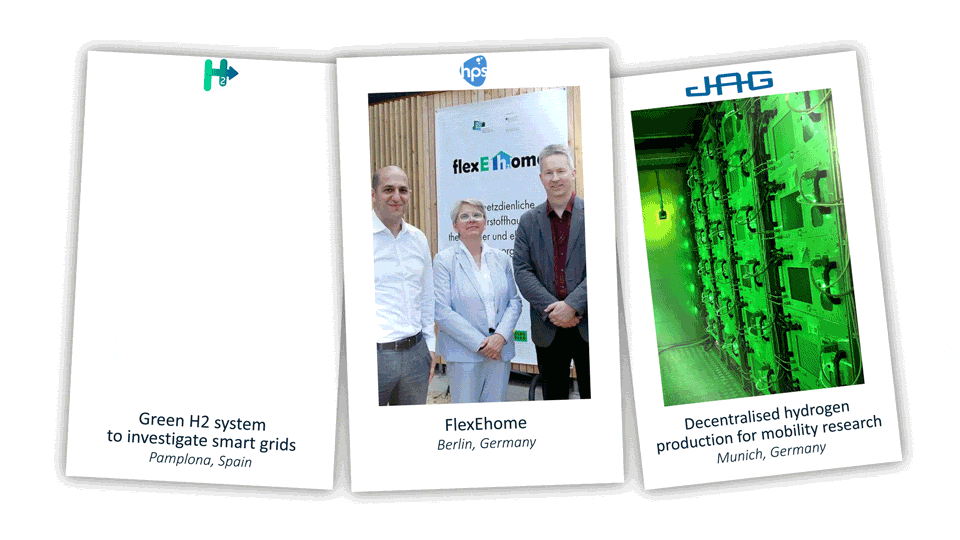 Use cases: Green H2 for mobility & energy storage
New use cases drawing on our AEM Electrolysers are emerging almost faster than we can count them. Here are the latest solutions decarbonising their respective fields:
Our Spanish partner H2Vector develops green hydrogen batteries for power-to-power applications. On a project in Pamplona, Spain, Enapter's AEM Electrolyser EL 4.0 takes renewable solar power from a 6.57 kWp PV system to produce onsite green H2. H2Vector then uses its smallest hydrogen battery unit, the Vector 10, to store the energy surpluses. Read more here.
Decentralised hydrogen production for mobility research
Enapter certified partner JA-Gastechnology GmbH (JAG) has developed a containerised solution to provide on-site renewable H2 production to the HyLab, MORE Munich Mobility Research Campus. Using our 48 AEM Electrolysers EL 2.1 to produce on-site green hydrogen, the MORE project is transforming the campus of the Bundeswehr University Munich into a model city for the future of mobility. You can learn more about this project here.
Flex Ecofriendly homes with self-sufficient energy
Our Partner HPS has introduced the FlexEhome solar H2 home: To tackle the challenge of seasonal imbalances and wasted prosumer electricity, it showcases the intelligent use of energy storage systems to achieve highly flexible and grid-serving operation. Funded by the German Federal Ministry for Economics and Climate Action (BMWK), the pilot only feeds electricity into the grid or withdraws from it when it serves the grid. Read more here.
If you want to start your own H2 production, get your AEM electrolyser quote below.
Telecom towers: an opportunity for green H2
Telecom towers often rely on generators that can rapidly power up in case of an electricity outage. Since most generators run on dirty gas or diesel, they come with some serious problems, including rising prices, CO2 & NOx emissions and costly fuel logistics.
Fortunately, there's a solution:. H2 power generators working with excess renewable energy offer lower OPEX, better remote management, and no CO2 emissions. On top of eliminating complicated and costly fuel logistics, smart AEM Electrolysers like Enapter's EL 4.0 offer the option for remote monitoring of all system components via our Energy Management System Toolkit, which comes in handy for remote locations. You can read the full story here.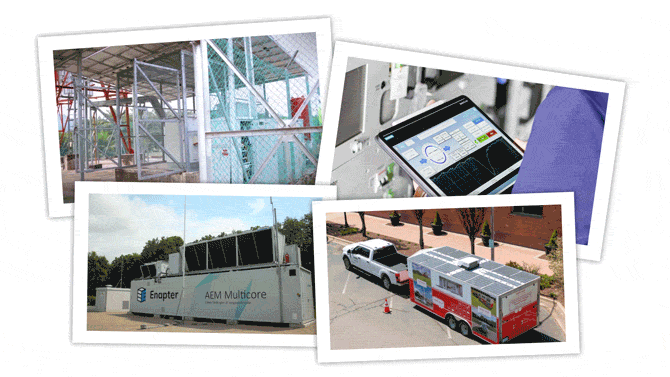 Are you considering projects for remote locations? Request your free budgetary quotation today!
Autumn Events
Popular FAQs – is yours answered?
What is the energy content of hydrogen? What is the efficiency of Enapter's electrolysers? Why is AEM the lowest cost electrolyser technology compared to PEM and traditional alkaline systems?
We compiled a list of the most popular questions that our audience is asking. From specific questions about our system, to hydrogen fundamentals and comparisons between Enapter's AEM electrolysers and both PEM and allkalines systems, our website's FAQ section has many of the answers you're seeking.
And just for the record, our electrolysers already have an efficiency of 62.5%, putting it among the top electrolysers for efficiency. (Read this particular answer here). If you have any other questions that are not answered on our FAQs page, get in contact with us.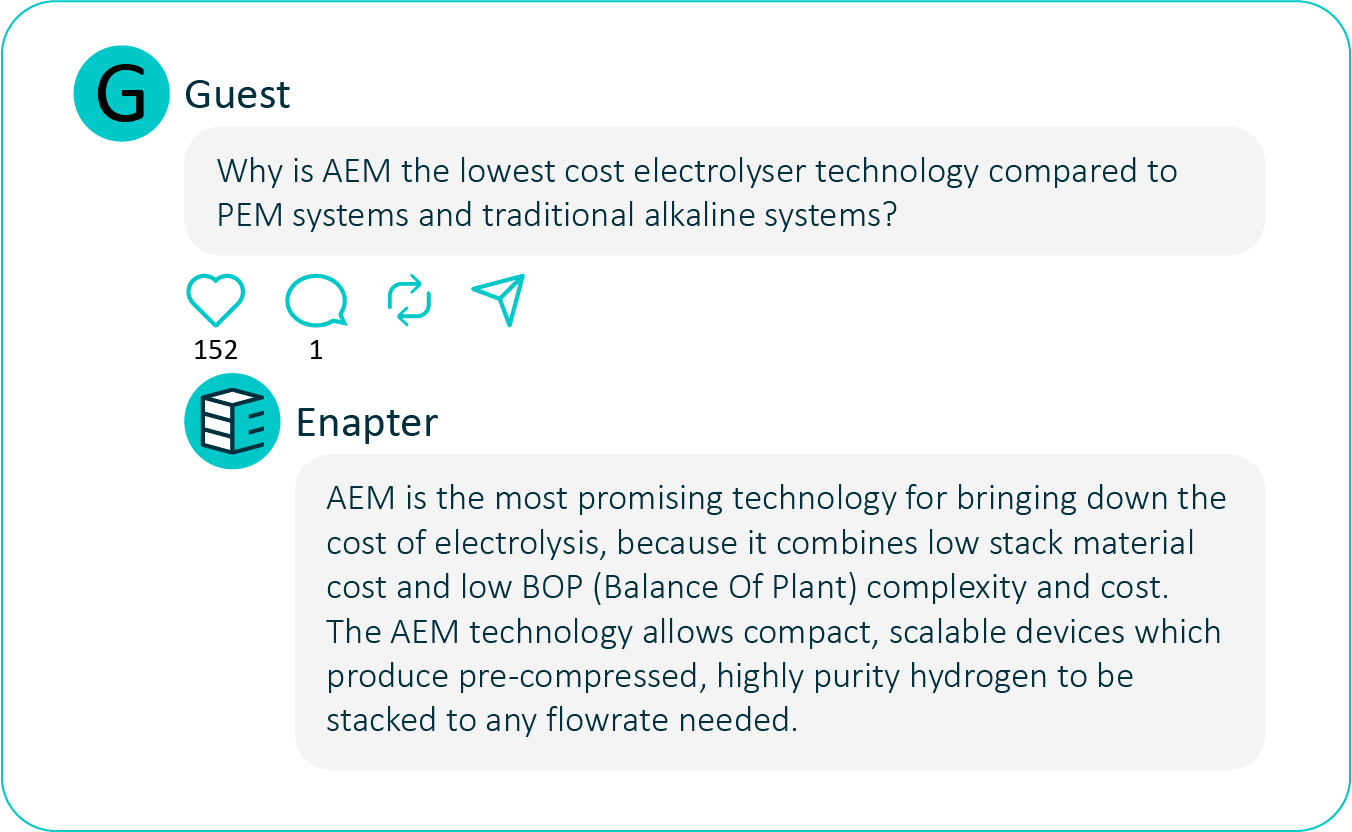 Top opportunities with Enapter
Are you interested in joining us on our mission to make green hydrogen affordable and accessible to all? Or do you know someone who might be interested? Check out the roles below or on our careers page.
Thanks for reading, and feel free to share this with anyone you think would appreciate it.