Get the highlights from the launch of our AEM Flex 120 electrolyser and more exciting events
Although we always have plenty on the go at Enapter, the obvious highlight of September was the unveiling of our new AEM Flex 120 electrolyser in Saerbeck, which also doubled as our Partners Day event. We were glad to see many of you there but don't worry if you missed out as we have all the details below – as well as the dates of all the upcoming events to meet us in person next time!
October 5, 2023

AEM Flex 120 Launch & Partners Day
On September 21 in Saerbeck, we officially unveiled our new AEM Flex 120 electrolyser in front of over 100 partners & customers – including its first purchaser, German brickmaker ABC-Klinkergruppe. You can check out the video overview from the launch here.
The AEM Flex 120 addresses the market gap between the AEM Electrolyser EL 4 (1 kg/day) and our megawatt-scale AEM Multicore (450 kg/day). It's a self-contained and ready-to-use product that allows industrial companies and energy developers to quickly start producing low-cost green hydrogen.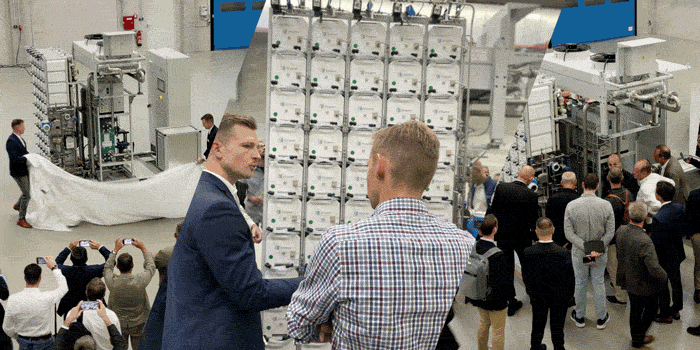 Orders for 2024 deliveries are open but interest has been high – the first 25 systems are already sold – so don't miss out; get your quote today!
The day at our Enapter Campus was not just about the product launch, but also about focusing on and speaking with some of our global network of over 100 integration partners.
We presented and discussed how our partnerships can accelerate the roll-out of green hydrogen projects and AEM Electrolysers – with services, joint campaigns, and of course the AEM Flex 120. If you're also interested in joining the global green hydrogen effort as a partner, find out more here.
Interest in AEM Multicore & EL 4
Another thing noted at our launch and partner day was plenty of interest in visiting the pilot version of our AEM Multicore electrolyser, which is located close to us at the Bioenergiepark Saerbeck.
Like the AEM Flex 120, this is a multi-core electrolyser well-suited to getting the most out of fluctuating renewables but instead is a containerised system for 500 kW or 1 MW of green hydrogen production.
At the same time, we're seeing strong ongoing demand for our compact AEM Electrolyser EL 4 thanks to its short deployment time, quick and easy integration for pilot projects and ease of operation.
After all the focus on the AEM Flex 120, here's a refresher on the rest of the AEM electrolyser family: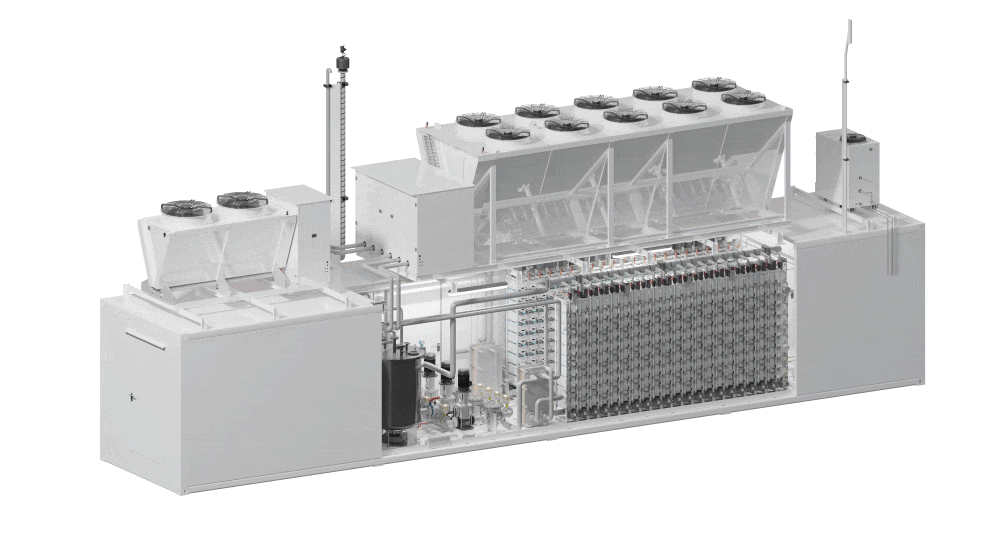 AEM Multicore 225 and 450 Key Specifications
Production rate 225 and 450 kg/24 h
Available as 500 kW and 1 MW systems
Hydrogen purity 99.999 % (with optional dryer)
Outlet pressure up to 35 barg
Largely pre-assembled for fast commissioning
Rapid reaction time to intermittent renewables
AEM Electrolyser EL 4 Key Specifications
Production rate 1 kg/24 h
Stackable modules for greater production
Hydrogen purity 99.999 % (with optional dryer)
Outlet pressure up to 35 barg
Quick and easy installation (OPC UA ready)
Air-cooled & liquid-cooled, AC & DC variants
To find the electrolyser that best fits your needs, visit our AEM Electrolyser overview webpage.
Join Us for Use Case Co-Marketing
We'd like to extend an invitation to all partners and/or customers that have recently deployed their AEM Electrolyser systems and would like to share their learnings to join us in co-marketing.
There is a huge diversity of applications that you are unlocking with our devices and we would love to leverage our collective reach and give more exposure to your use cases on our website and on social media.
If your use case has not yet being featured, please get in touch with us today.

Meet us in Brussels, Turkey, Germany or Japan!
We and our partners will be exhibiting or speaking at the following events throughout October:
12-13 October: System Integration Days Power-to-X, Germany
12 October: Renewable Hydrogen Summit, Brussels, Belgium
12-13 October: REIF 2023, Fukushima, Japan
16 October: 3minutes2talk, Berlin, Germany
21-24 October: Horasis Global Meeting, Gaziantep, Turkey
Check out all of our upcoming events on the Enapter website; we'd love to see you!
Enapter at Climate Week NYC & Earthshot Prize
At the same time as the big event in Saerbeck, our co-founder Vaitea Cowan was in full green hydrogen networking and speaker mode at the New York Climate Week.
On top of taking to the stage at "The Future of Climate Summit – Where Solutions Meet Capital", she took to the stage at The Earthshot Prize Innovation Summit to interview HRH Prince William, founder and president of the Earthshot Prize – which we won in 2021 with our single-core AEM Electrolyser.
Here's one quick insight Vaitea shared:
"What does scaling innovations mean, and how can we enable them? It is about giving teams the resources they need to focus, deploy their products, learn, drive costs down, and increase their impact.

Enapter's products are the prime example of how to scale green hydrogen in a modular way. Based on the same core technology, products can be developed quickly and improved. By adopting the lessons learned on how solar scaled: we are learning how to build electrolysers faster and collecting data from the 3,700 in the field today to improve their performance."
Find a short overview of the talk on LinkedIn or watch the full interview here.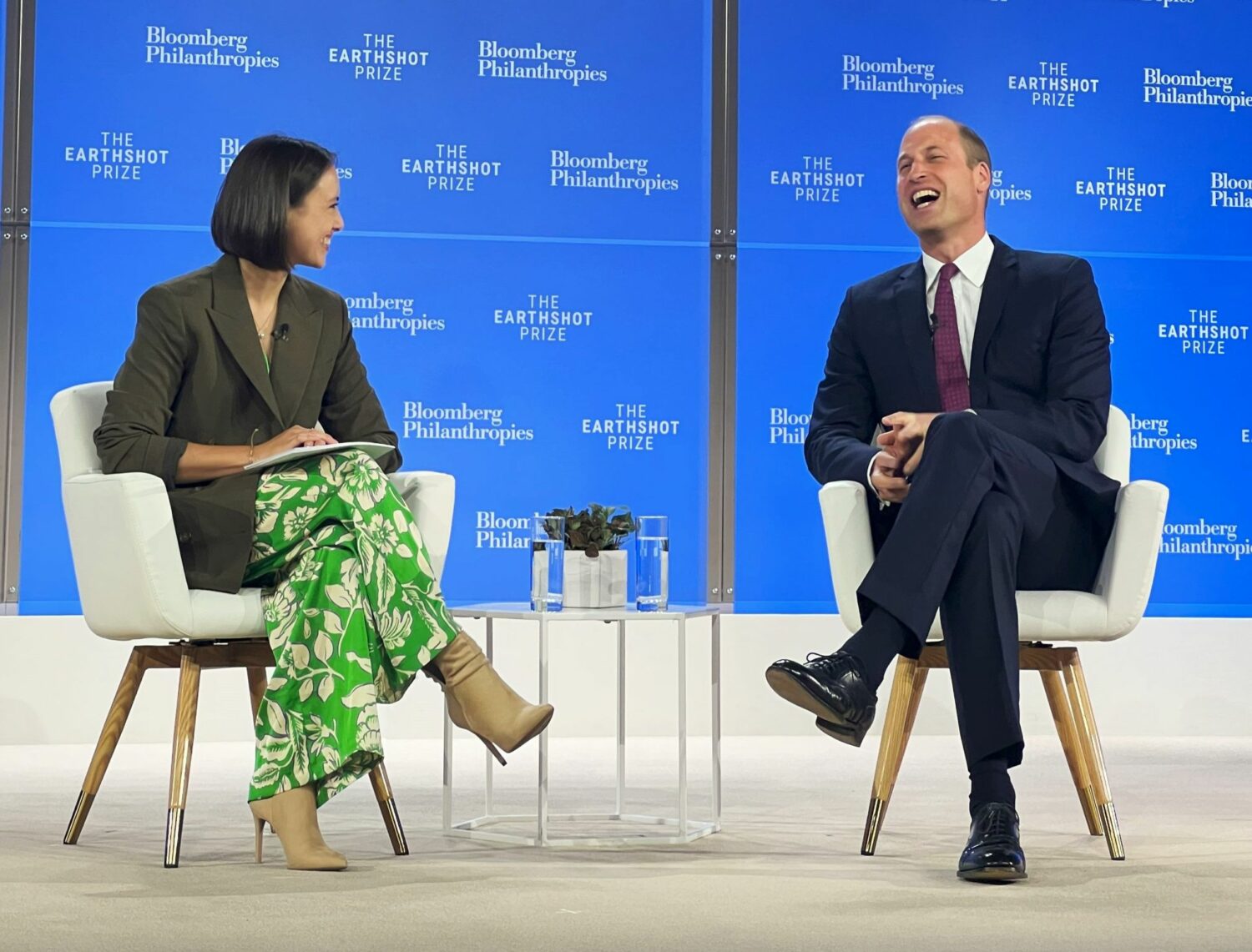 Thanks for reading, and feel free to share this with anyone you think would appreciate it.