Enapter electrolysers join Japan's H2 transition & more applications worldwide
Climate change and climate action know no borders; we're all starting to feel the impacts of a warming planet and we all have the capacity to do something about it. That's why the team at Enapter works with partners worldwide to unlock as many effective green hydrogen solutions as possible with our #AEM technology.
August 9, 2023

Climate change and climate action know no borders; we're all starting to feel the impacts of a warming planet and we all have the capacity to do something about it. That's why the team at Enapter works with partners worldwide to unlock as many effective green hydrogen solutions as possible with our AEM technology. This month we're sharing a summer snapshot of such global solutions, starting in Japan:

AEM Electrolysers for Tokyo Gas refuelling   
Enapter is supporting one of Asia's largest energy suppliers, Tokyo Gas Asia Pte. Ltd., in implementing Japan's hydrogen strategy transition: We delivered 30 EL 2.1 AEM Electrolysers and 15 DRY 2.1 dryers for their hydrogen refueling station in Tokyo, and the Japanese integration partner Inabata & Co.,Ltd took on the electrolyser integration. Beyond the current project, it's also planned to explore the potential use of renewable hydrogen together with Tokyo Gas and to implement further hydrogen projects in Japan.
Tokyo Gas's "Senju" station is the first commercial hydrogen refueling station using AEM electrolysis in Asia. Here, the Enapter electrolysers used to produce green hydrogen on-site are 8-bar pressure versions that comply with Japanese thresholds set by the High Gas Pressure Safety Act. Our dryers bump the hydrogen produced up to the purity level needed by fuel cells.
Get all the details in the press release here.
New certified partners in Canada
Last year, we sold two AEM Multicores to the Canadian firm REFUEL, which will work with AKA Energy Systems Inc. (AKA), a leading Canadian power systems integrator in setting up the energy self-sufficiency project on Prince Edward Island. Our team has recently visited AKA's facilities and established certified partnerships with both AKA and REFUEL, meaning that we now have two more Canadian certified partners to implement megawatt-sized systems, as well as our single-core AEM Electrolysers as part of their E1 system. They will also provide extensive service packages. Read the announcement on Linkedin.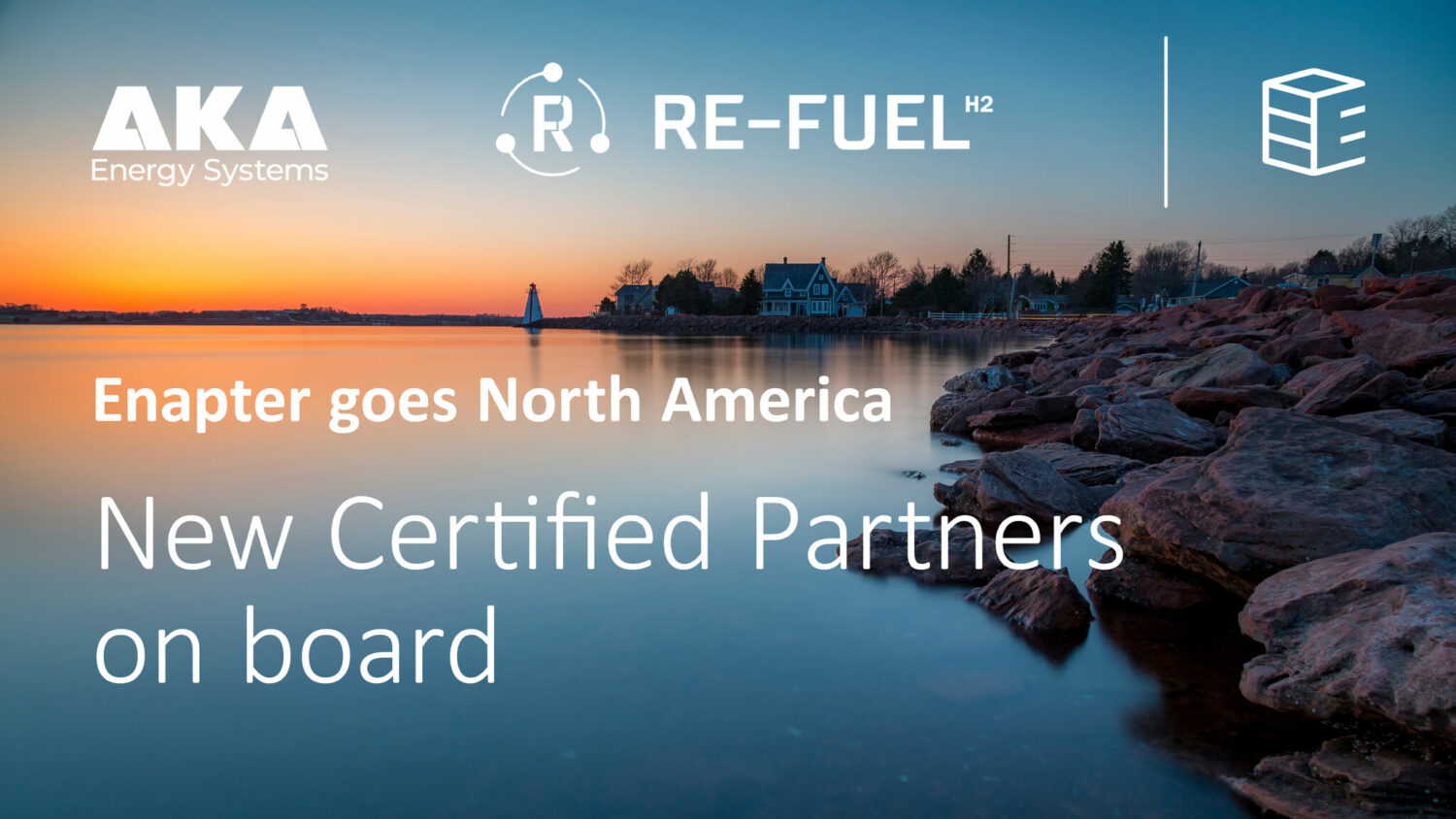 Do you have what it takes to be a Certified Partner?
Use cases: Green H2 for industry, education & buses
As new AEM Electrolyser use cases are emerging all the time, here are this month's solutions in focus:
Replacing natural gas in industrial ovens 
Dutch firm Roto-Art makes customised plastic products using rotational casting in ovens. And to replace as much natural gas as possible in these ovens, they started a pilot project using rooftop solar to produce green hydrogen. Certified partner Adsensys stepped in to support, integrating a cabinet-enclosed green hydrogen production system that contains seven of Enapter's AEM Electrolyser EL 4.0s.
Roto-Art already blends more than 30% H2 into gas to supply one oven in this pilot, and more is being added incrementally to replace natural gas and lower its emissions. The goal is to go up to 100% H2 and Roto-Art's rooftop PV has enough capacity to supply all its ovens with green hydrogen. Read more here. 
Thai hydrogen learning centre & microgrid
The Electricity Generating Authority of Thailand (EGAT) Learning Center is an education and research hub that gives the public insights into renewable energy use and prepare businesses for the country's future carbon-neutral energy targets. Based in Bangkok, it has an H2 energy system with AEM Electrolysers, Dryers, a water tank, H2 storage and fuel cells, all integrated by our partner H2 Core Systems.
This green hydrogen micro-grid project by EGAT and Enapter aims to be a role model for the whole nation, and beyond. Thailand, with its abundant sun and many islands, can become a lighthouse nation for green hydrogen microgrids eliminating diesel use. Take a closer look at this project here.  
Hydrogen bus trial in Wales 
Pioneer One is a containerised green H2 generation solution in Baglan Energy Park, South Wales, and is the brainchild of Protium, Fuel Cell Systems (FCSL), Enapter and the University of South Wales (USW). Using 40 AEM Electrolysers, eight Dryers and the Energy Management System (EMS) Toolkit, it will help scale up and increase adoption of zero-emission green energy in the UK.
The system generates fuel cell-grade green hydrogen, producing 40kg H2/day, and now it supplies an exciting demo of zero-emission public transport in the Neath Port Talbot and Swansea area of South Wales. This locally produced green hydrogen fuels an H2 City Gold electric bus from Caetano Bus UK via the HyQube refueller provided by FCSL, helping it power through the route's steep sections. More here.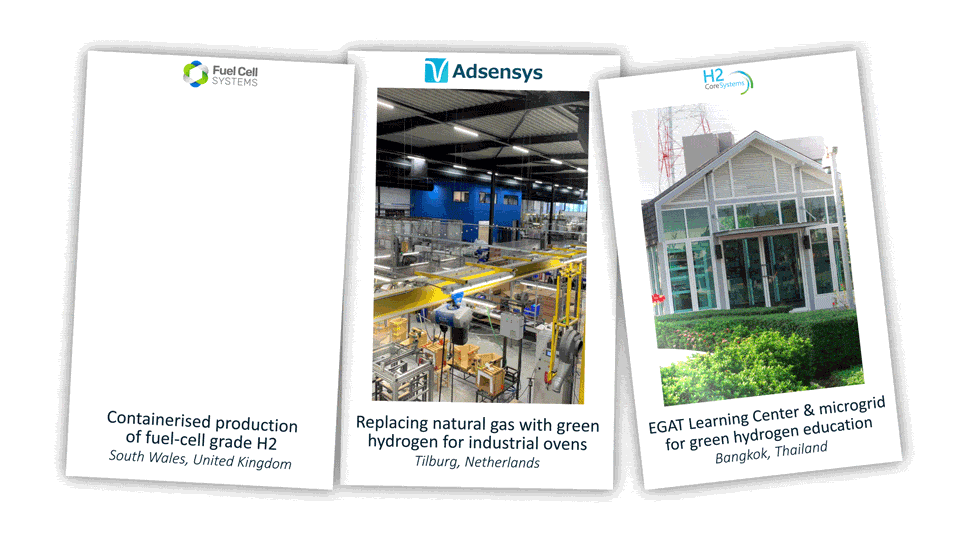 If you want to start your own H2 production, get your AEM electrolyser quote below.
Events from August to September 
Our events programme is taking a pause for most of August, before picking up at the end of the month. As always, check out our events page for all the info, and see the upcoming highlights below:
August 27, Saerbeck: Enapter will exhibit at Wir brennen fürs Klima action day at the Bioenergiepark in the climate community of Saerbeck, close to the Enapter Campus.
September 5-7, Oldenburg: Our CEO Sebastian Justus-Schmidt will speak at Beyondgas Congress 2023 in Oldenburg, Germany.
September 27, Oxford: Enapter Co-Founder Vaitea Cowan speaks at the World Forum on Enterprise, in the session "The New Climate Titans – Sharing Success".
Opportunities with Enapter
Are you interested in joining us on our mission to make green hydrogen affordable and accessible to all? Or do you know someone who might be? Then check out the roles below or on our Careers page.
Thanks for reading, and feel free to share this with anyone you think would appreciate it.