Clean manufacturing in Saerbeck
Enapter plans production of electrolysers without grey energy
February 7, 2022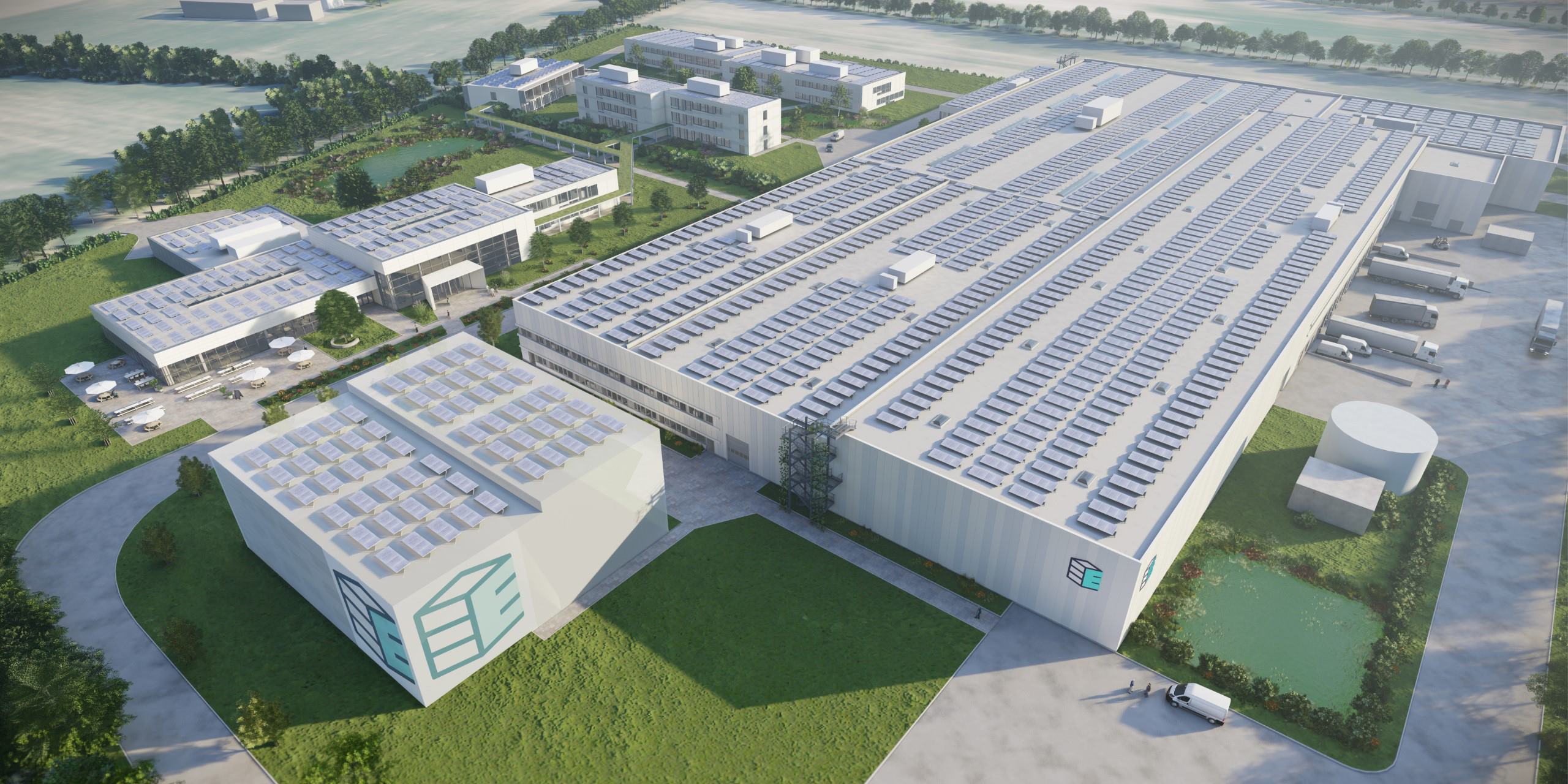 Enapter Campus construction in North Rhine-Westphalia is on schedule
60 per cent of the energy demand is covered by PV systems on the production hall rooftop
Off-grid energy self-sufficiency attained through the connection to the Bioenergiepark in Saerbeck
Saerbeck, February 7, 2022. The energy transition relies heavily on clean technologies such as wind turbines or electrolysers to reduce emissions – but it is also vital that renewable energy is used in the production of these same technologies. The cleantech company Enapter (WKN A255G0) has now presented how it plans to achieve mass production of electrolysers in the North Rhine-Westphalia town of Saerbeck, without any 'grey' energy.
Right now, the 'climate community' of Saerbeck is witnessing the emergence of the Enapter Campus – an 82,000 square metre site with an electrolyser production hall, R&D facilities and administration offices. In line with the project's 'Life Cycle Impact Zero' ambitions, the entire Enapter Campus will run on renewable energy produced either on-site or sourced from the nearby Bioenergiepark Saerbeck.
At the heart of this strategy is electricity generation from photovoltaic (PV) systems on the roof of the Campus buildings, which are planned to deliver 2,100 megawatt hours of electrical energy per year. That roughly corresponds to the energy needs of 688 three-person German households (3,050 kilowatt hours per year) and is expected to cover 60 per cent of the electrical energy needed for the electrolyser production. On-site production is planned to begin at the end of 2022 and will be automated gradually and scaled up into mass production (more than 10,000 electrolysers per month).
Waste heat recovery for heating
On top of this, Enapter plans to use a direct connection to the Bioenergiepark Saerbeck to reach complete off-grid energy self-sufficiency. The Bioenergiepark, which was founded as part of a Saerbeck citizen initiative, is in the immediate vicinity of the Campus and produces double the amount of energy Saerbeck needs from wind turbines, PV and a biogas plant.
The previously unused waste heat from the biogas plant is planned to be used to support water and facility heating in the Enapter Campus' buildings. Furthermore, the compact, modular electrolysers produced there will create green hydrogen in final acceptance phase testing, with the hydrogen later used for electricity generation in a combined heat and power plant. This electricity could then be used, among other things, to power the heat pumps or ensure emergency power supply. The waste heat will also be captured and used for winter usage.
With the Enapter Campus, Enapter aims to show that climate-neutral industrial production is possible. But the company's Life Cycle Impact Zero principle goes further than just energy supply and also includes aspects such as a circular economy. The end goal of the comprehensive concept is to achieve industrial production that has no negative impacts on people and the environment.

About Enapter
Enapter is an award-winning energy technology company producing highly efficient hydrogen generators to replace fossil fuels. Its patented and proven Anion Exchange Membrane (AEM) technology allows for the mass production of low-cost, plug-&-play electrolysers for green hydrogen at any scale. The modular systems are used in 40 countries in sectors like energy, mobility, industry, heating and telecommunications. Enapter has offices in Italy, Germany, Thailand and Russia.


Learn more at
Website: https://www.enapter.com
Twitter: https://twitter.com/Enapter
Linkedin: https://www.linkedin.com/company/enapter/
Facebook: https://www.facebook.com/enapterenergystorage
Press Contact
Martin Jendrischik
Cleantech Media
Tel.: +49 (0) 30 921 008 130
E-Mail: pr@enapter.com
Contact for financial and business media
Ralf Droz / Doron Kaufmann
edicto GmbH
Tel.: +49 (0) 69 90 55 05-54
E-Mail: enapter@edicto.de