Sangyo Times 水電解装置の新モデル発売
Enapter announces the new model of a water electrolyser at Hydrogen and Fuel Cell Expo 2020
March 20, 2020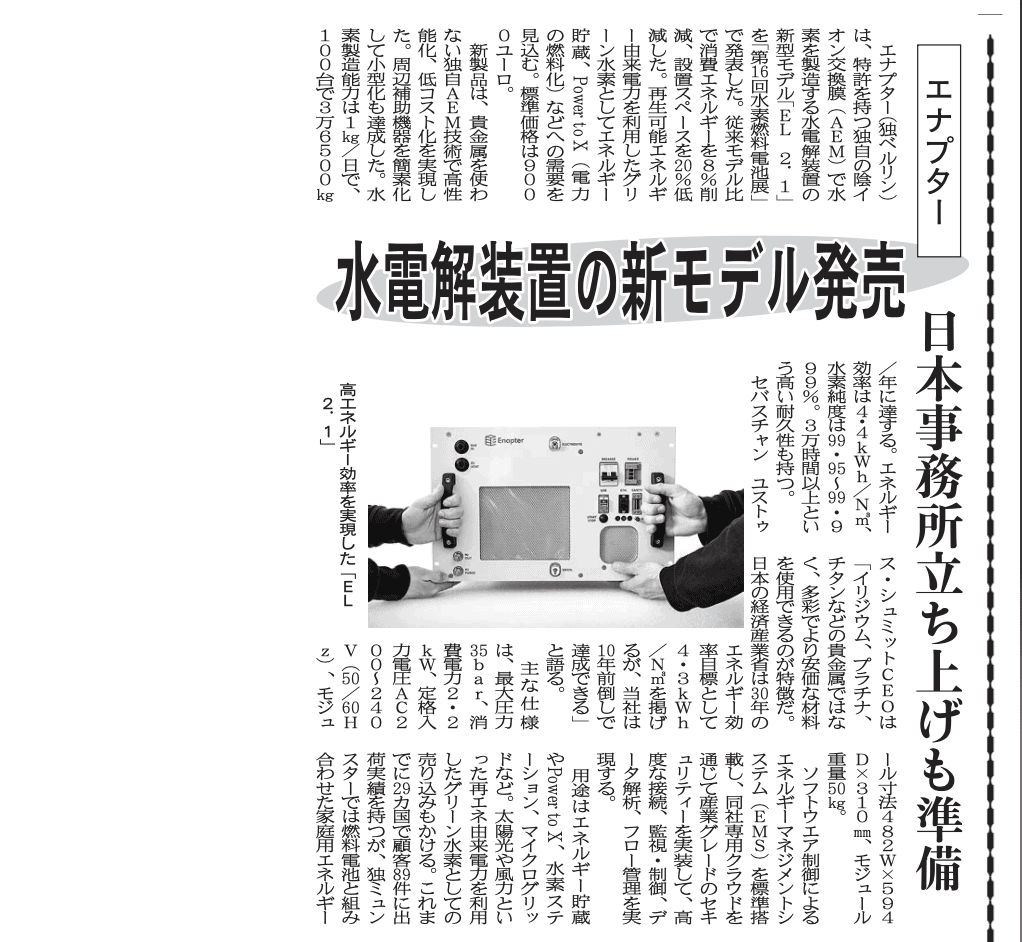 エナプター、水電解装置の新モデル発売、日本事務所立ち上げも準備
Original article: Sangyo Times Newspaper Article 3192020
Enapter announces the new model of a water electrolyser at Hydrogen and Fuel Cell Expo 2020, which produces hydrogen using its own patented AEM. The EL 2.1 consumes 8 percent less energy and is significantly smaller, which translates into a 20 percent reduction in space requirement.
Demand is expected for energy storage and power-to-x (conversion of electric power to fuel) as green hydrogen using renewable energy-derived power. The standard price of the EL 2.1 is 9,000 Euro.
The new EL 2.1 product achieves high performance at low cost by utilizing Enapter's proprietary AEM technology that does not use precious metals. The product also has been downsized by simplifying its peripheral equipment. Hydrogen production capacity is 1 kg / day, and 100 units can generate 36,500 kg / year. Energy efficiency is 4.4 kWh / Nm3, and hydrogen purity is 99.9-59.9%. It has high durability of more than 30,000 hours.
CEO Sebastian Justus Schmidt comments, "It is characterized by leveraging a variety of reasonable materials instead of precious metals such as iridium, platinum, and titanium. The METI of Japan has set a 4.3 kWh / Nm3 energy efficiency target for 30 years, but we can achieve it 10 years ahead of schedule."
The main specifications are a maximum pressure of 35 bars, power consumption of 2.2 kW, a rated input voltage of 200 to 240 V AC (50/60 Hz), module dimensions of 482 W x 594 D x 310 mm, and a module weight of 50 kg.
The software-controlled energy management system (EMS) is installed as standard, and industrial-grade security is implemented through the company's dedicated cloud for advanced connectivity, monitoring and control, data analytics, and flow management.
The product can be used by energy storage, Power-to-X, hydrogen stations, Microgrids, and others. The company also promotes for green hydrogen using electricity from renewable energy such as solar and wind. While Enapter has shipped to 89 customers in 29 countries to date, it is also used for home energy storage combined with fuel cells in Münster, Germany.  In apartment buildings in Rotterdam of the Netherlands, it is used for Power-to-Heat for a heater, which operates a boiler with green hydrogen while reducing CO2 emissions to zero.
Enapter's system has been leveraged by more than 5 companies in Japan, and some of them are repeaters who have adopted it for multiple systems. It is mainly used in backup power supplies, microgrids in remote areas and islands, hydrogen stations, etc.  According to METI, the annual hydrogen demand in 2017 was 200 tons, but it is expected to increase to 4000 tons in 2020, and 300,000 tons in 2030, and to increase to 5 to 10 million tons in the long term.
Enapter is currently preparing to set up its Japanese office. Aiming to bring green hydrogen costs close to levels that can compete with fossil fuels, the company targets to set the final cost of 1.5 euro/kg. They are currently building a mass-production system to achieve this goal.
In addition, the "Enapter Campus Project," which integrates production and R & D functions, is being promoted mainly at a production plant in Pisa, Italy. The current monthly production capacity is 50 units. In 2021, the number will increase to 100 and in 2022 they will prepare to have production scale to several hundred MW per year.
CEO Schmidt says, "We have achieved a savings of 40% in costs in the past two years, achieving 6.8 euros/kg. In the next five years, we will be able to achieve 1.5 euros/kg."