Looking back, setting records and pushing forward
Featuring our biggest milestones 2022, the latest updates from the AEM Multicore, our most popular use cases, event calendar updates and plenty of good articles in our Holiday Reading List.
12. janvier 2023

Dear friend of Enapter,
Welcome to the new year; we're hitting the ground running and are ready for a BIG year in rolling out AEM Electrolysers for green hydrogen projects of all shapes and sizes. At the same time, we've taken stock of the year that was, so read on for a mix of 2022 retrospective and 2023 developments!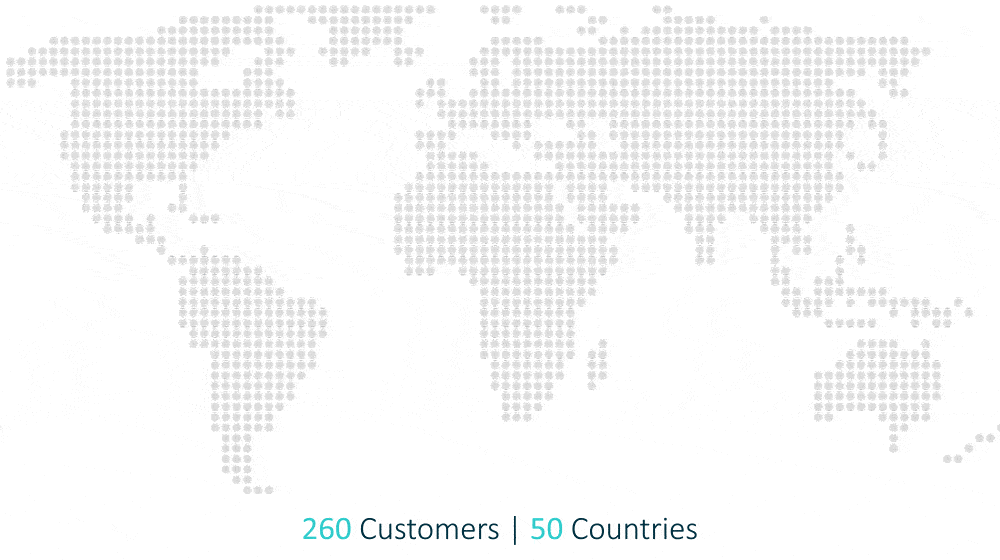 2022 in numbers
Last year was a massive one for us, but to make it snappy, here's 2022 in numbers:
Launched our flagship electrolyser – the EL 4.0
More than 1,200 EL 4.0 built and delivered to customers worldwide in Q4 2022
75% growth in revenue achieved compared to the previous year
More than 260 clients in over 50 countries use our ELs at the heart of their green hydrogen systems
Powered up our Enapter Campus with 3,726m of district heating pipelines, 2,271m of 30kV cable and a 2,200m green hydrogen pipeline directly from the Bioenergiepark Saerbeck
As you see: our EL 4.0 is flying out the door, so make sure to order yours now.
See the latest from the AEM Multicore!
We're entering the year of the AEM Multicore™, so it's time to give you a glimpse of the assembly action as we near completion of the prototype – which will soon run at the Bioenergiepark Saerbeck.
Like what you see? Don't hesitate to reach out for an obligation-free budgetary quotation.
Our most popular 2022 use cases
This year, we'll be sharing even more green hydrogen use cases in which clients deploy Enapter's AEM Electrolysers. In 2022, here are three that attracted the most interest:
In the midst of energy chaos, the opening of Wilo's H2Powerplant system to provide backup power to its HQ and factory in Dortmund gained plenty of attention. 96 AEM Electrolysers were integrated; with expansion in mind to enable self-sufficient energy supply for up to two days.
"We are very happy with the Enapter EL 2.1. These electrolysers are a perfect addition to our H2Powerplant." Richard Schmidt, Business Development – Wilo.
Starfire was also a popular story – this US company has developed a modular system to make ammonia from green hydrogen, instead of fossil fuels. It's already running and industrial plants with a production capacity of five+ tones/day are in the planning stage and can be quickly deployed with Enapter's electrolysers.
"We started using Enapter's EL series of electrolyzers three years ago. They were the best combination of price and performance for the small-scale prototype ammonia system we were building then. As our needs have grown, Enapter's capabilities have been growing too. We are excited to see how they are integrating their electrolyzer stack into their new Multicore 1 MW modular electrolyzer offering. We believe that the future of energy is modular, and we are glad to see Enapter moving down that road." Craig Baartman, VP Manufacturing – Starfire Energy
Creo turned digital heads with its Research House, the first on-grid hydrogen/solar-powered house in the UK. Implementing various hydrogen and energy technologies on-site, Creo demonstrated it could use Enapter's AEM Electrolysers to create green hydrogen that solves seasonal energy storage deficits in homes.
"Creo have been Enapter's partner for many years now and we're always immensely impressed with their products and how quickly they are able to innovate. Due to their modular capabilities, Enapter's electrolysers are ideal for both small and large projects; coupled with their extremely good reliability, they provide a perfect solution for our clients." Brad Arnold, Operations Developer – Creo
Find more use cases on our website!
Where to connect with Enapter this year
These are the biggest confirmed dates on our events calendar for 2023 so far:

Keep an eye our website and don't hesitate to book your meeting today.
Meet our integrators
While we focus on making the best electrolysers possible, our integrator partners are the unsung heroes making turn-key green hydrogen systems a reality. It's time to meet three of them.
H2 Core Systems
From Germany but also active abroad, H2 Core Systems provides tailored, completely scalable, plug-and-play core systems for individual hydrogen use cases from energy storage to grid balancing.
Fuel Cell Systems
This UK-based hydrogen and fuel cell design and integration company provides solutions for off-grid power and hydrogen refueling systems for fuel cell vehicles – including FCEV aeroplanes.
Pestech Energy
In Malaysia and beyond in SE Asia, Pestech Energy offers customized and sustainable solutions through its end-to-end project delivery of energy-related technologies and infrastructure.
If you're interested in finding or becoming an integration partner, find out more here.
Hydrogen holiday reading list
The festive season may be over, but there's plenty of holiday reading for anyone who still has time on their hands – and wants to check out some of the best hydrogen reads of 2022.
Check out our 2022 hydrogen holiday reading list.
Thanks for reading, and please share this newsletter with anyone you think would appreciate it!
All our best,
The Enapter Team