Forbes – A Chat With Enapter's Vaitea Cowan On The Green Hydrogen Solution That Got Bill Gates' Attention
This week's Current Climate, which every Saturday brings you a balanced view of sustainability news.
Dezember 4, 2021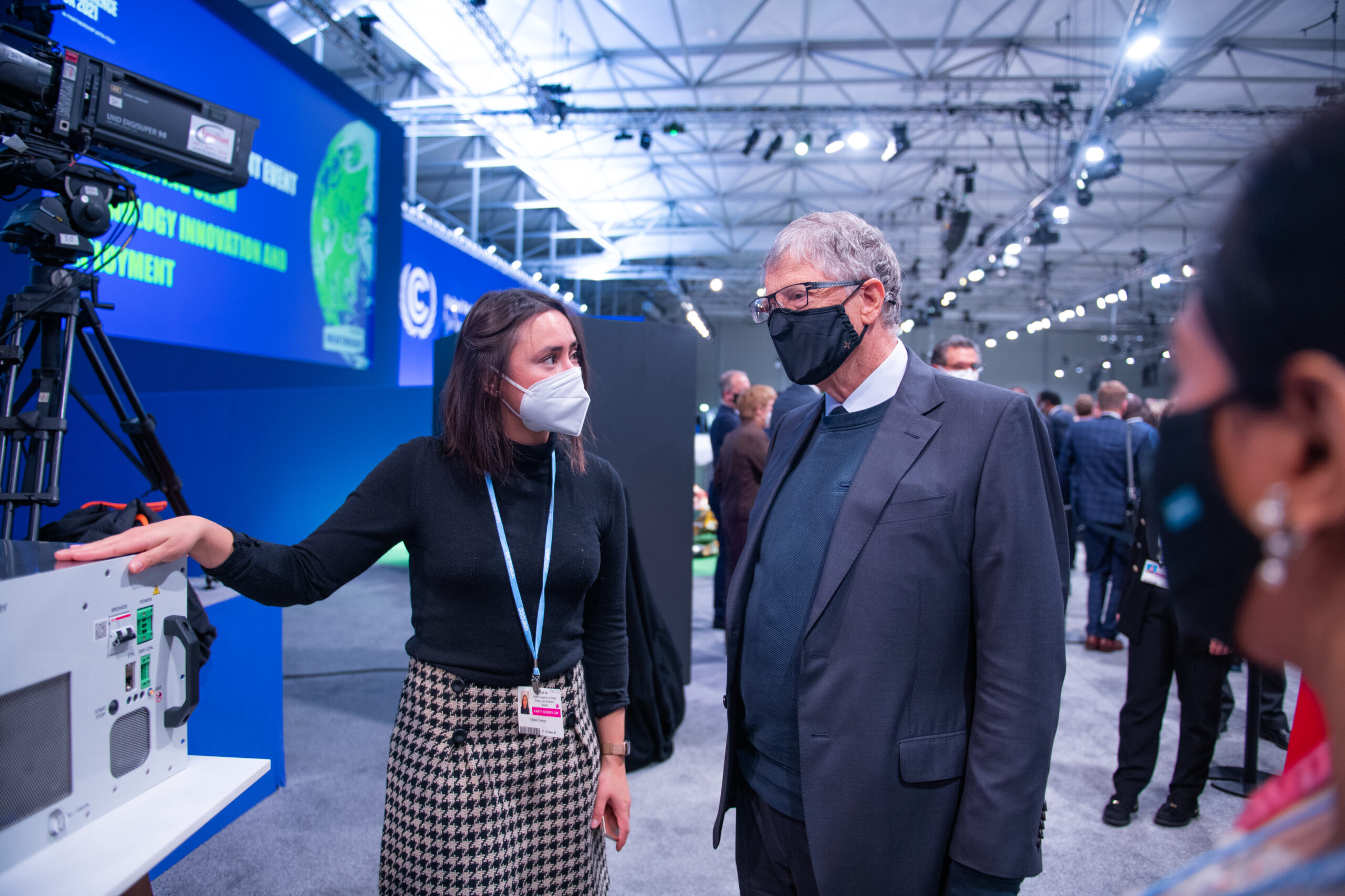 In this week's Climate Talks, I spoke to Vaitea Cowan, who made the Forbes 30 Under 30 Energy list in 2020 along with her cofounder Jan-Justus Schmidt for their company Enapter, which is producing a device that can create green hydrogen through electrolysis. They were among the recipients of Prince William's Earthshot Prize and got to demonstrate their device at COP26 in front of Bill Gates.
Climate Talks
Vaitea Cowan, Jan-Justus Schmidt, and Sebastian-Justus Schmidt founded Enapter, a manufacturer of devices that use electricity to split water into hydrogen and oxygen, with the intention of creating a compact and modular alternative to the massive electrolyzers in the market. The goal was to enable production of green hydrogen—which occurs through electrolysis if the electricity used comes from renewable sources—in a variety of use cases, from personal homes to transportation. In October, Enapter was picked as one of five winners of the inaugural Earhshot Prize founded by Prince William, which seeks to support the most innovative solutions to the challenges posed by climate change.
What are the uses of green hydrogen?
What's exciting about green hydrogen is that it's a very versatile energy carrier. It essentially couples green electricity with all of the structures that cannot be electrified, such as maritime applications or heating and cooling, or industrial applications like cement, steel, and glass.
Hydrogen itself is colorless, but is it challenging to keep differentiating between green hydrogen, which is made from renewable energy sources, and blue hydrogen, which is a nice term for something made from fossil fuels—whose identifier should probably be the color black rather than blue?
It's a constant battle. You have to remind people why green hydrogen is the only solution moving forward. For me, it's so simple. We need to stop using fossil fuels. So anything using fossil fuels is going in the completely wrong direction. We only have this small window [of time], this is the defining decade. Any time we waste developing a market that is dependent on fossil fuels, it's time wasted to develop the renewable energy market. We want to focus all of our energy on developing the green hydrogen market. The only way to fight fossil fuels is to be cost competitive. We know that we have the technology that can do this at a quick pace. And for us, it's all about focusing on mass producing our systems, which is why we're building a mass production site fully powered by renewables energy sources.
Have you noticed a change in interest for products and solutions involving green hydrogen?
There is much more urgency in the conversation. There is always skepticism, because people have their own opinions, and some people question the use cases of green hydrogen. The good thing is that there are a lot of investors out there so you don't have to stick with the ones that are skeptical. But I do think that there is much more awareness around the urgency of fighting climate change.
How was meeting Bill Gates?
I was humbled to get to introduce him to the entire exchange membrane technology and to open his mind to the new technologies that are available for green hydrogen, other than the ones that he knows very deeply. It was a very short interaction, but it was nice to inject more confidence on how we don't have to wait 10 years for green hydrogen, but it's something that is coming now—and for us, at least, in the next year and a half. And also to thank him also for the work that he's done and the leadership that he's brought to this field.
What does winning the Earthshot Prize mean to you?
The prize for us is the recognition that our solution is one worth scaling.
Vaitea Cowan's answers were condensed and edited for clarity.
Read the full article here
Written by Sofia Lotto Persio