Enapter Campus & Life Cycle Impact Zero
Positioning our first mass-production facility for zero negative impact
Oktober 28, 2020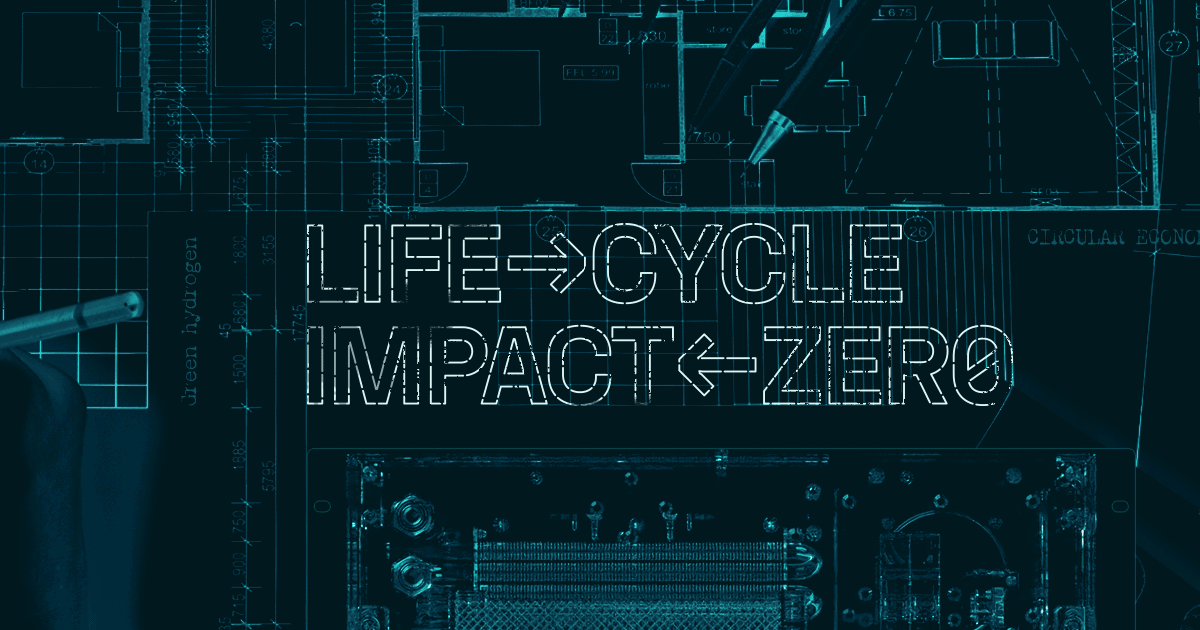 In all of the recent excitement around the announcement of our planned electrolyser mass-production site — the Enapter Campus (read the press release here) — it could be easy to miss some very important ideas about our vision that are woven into this.
So, yes, we are absolutely thrilled to finally announce that we have chosen Saerbeck, North Rhine Westphalia for our Campus, which will be our first scaled production facility and the next step towards Enapter's audacious goal of producing 10% of all hydrogen generation capacity by 2050.
But it will bring so much more than economies of scale. The Enapter Campus is planned as our research, development and innovation centre. It will be the key to 'Life Cycle Impact Zero'. If you're not familiar with this term, that's understandable — we just invented it. But don't worry: You'll be hearing more about it very soon.
We believe that our electrolyser systems shouldn't just produce high-quality green hydrogen to decarbonise fossil-fuel dependant industries: We believe that our entire production process should have zero negative impact. That it should be Life Cycle Impact Zero.
Life Cycle Impact Zero
By this point, you're probably wondering what Life Cycle Impact Zero actually means in concrete terms. At this early stage in Enapter's journey, it's a philosophy we embrace alongside our mission of making green hydrogen affordable and accessible to all. But we also see it evolving to incorporate well-defined targets we will strive towards achieving.
The key ideas at the heart of this philosophy are:
Using 100% locally-sourced green electricity
Zero CO₂ emissions from our production facilities
No production side-effects negatively impacting people or the environment
Recyclability of our electrolysers and other products
Circular material flows at our sites
Eventually bringing CO₂ emissions for our entire product life cycle to zero
We won't reach Life Cycle Impact Zero when we have our factory ready in 1-2 years; it will be a highly challenging and demanding process, one which will involve many small but significant steps in line with this philosophy over time.
And we're ticking one of the boxes from the very start — our Campus site will run entirely on locally-sourced renewable electricity, thanks to the unique Energiewende town of Saerbeck.
The Saerbeck Solution
Whatever electricity we can't produce on-site with solar arrays (combined with abundant hydrogen storage, of course), we'll source from the extraordinary climate community of Saerbeck.
This town of 7071 souls close to Münster produces four times as much electricity from renewables than it consumes, thanks to a citizen-led climate and energy movement that emerged in 2009. Its Bioenergiepark alone produces twice as much energy as the town needs from wind, solar and biomass, while rooftop solar and a local wind park double this. This means Enapter's Campus will always have plenty of renewable electricity fresh from the source, instead of mixed-source power that's tapped from the grid and painted green.
Local renewable energy access is one of the main reasons why we chose Saerbeck from a very long shortlist of 140 sites across Germany. We had overwhelming interest from all regions, fantastic support from local institutions, and a tough choice to make.
But the "Life Cycle Impact Zero" concept applies not just to the power supply — it also seeks to completely eliminate harmful emissions throughout a product's entire life cycle, including materials and parts manufacturing and assembly, maintenance, disposal, and recycling.
The Circle of Life & Recycling Electrolysers
Implementing such circular economy cycles is a vital point for Life Cycle Impact Zero — if we want to have zero negative impact, we also have to strive to re-use the materials inside our electrolysers. Today, we already offer to take used electrolysers from our customers for recycling. It's still early days in re-using the component materials inside our modular electrolysers. Nevertheless, our systems are for the most part made of very common elements and materials. We think that the goal of recovering them all and using them again to build new Enapter electrolysers is achievable.
The Campus will contain a facility to accept end-of-life electrolysers and guarantee a full recycling process, potentially with a 3rd party enabler. We will also investigate measures to reduce our products' CO₂ footprint, such as designs that make it easier to dismantle end-of-life products and expanded use of recycled and low-CO₂ materials in production.
Likewise, we are striving to design the buildings in our Campus to be Life Cycle Impact Zero — as much as is commercially viable at this stage of Enapter's development.
Completely eliminating harmful emissions throughout the entire life cycle of a product like electrolysers is a lofty concept, but it's one that we believe is vital to mitigate the many brutal risks posed by climate change. Although we're early on our journey, we feel it's essential to ensure that making green hydrogen affordable and accessible doesn't ignore any potential negative downstream impacts that the development of technology at scale can create.
Blueprint for Green Tech
Our new Campus production facility in Saerbeck is planned to serve as a blueprint for the distributed production of modular electrolysers, with future production facilities based on this concept providing the scale of economy that will bring us closer to price parity with grey hydrogen.
With this and our Life Cycle Impact Zero philosophy, we want to set the benchmark for zero-emission industrial production. We see that some businesses already value such commitments: Toyota, for one, will soon require its suppliers to provide zero emission certificates as part of its Toyota Environmental Challenge 2050, adding further economic imperatives to the moral ones.
We see that success in Saerbeck wouldn't just give Enapter a blueprint for scaling our green hydrogen solutions — but that it would also make clear that scalable clean energy technologies don't have to come with other environmental tradeoffs.
Keep an eye out for an upcoming article from our CEO Sebastian-Justus Schmidt, sharing about the decision-making process to choose our Campus location.